Brick by Brick presents
Mortiis
with Tomb, Francis Roberts
Feb, 6 @
8:30 pm
( Doors:

8:00 pm

)
Brick By Brick
Ages 21 and Up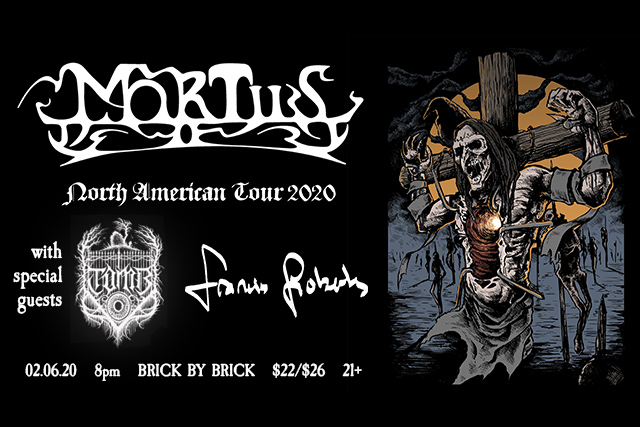 Additional Info
*Online sales end at 6PM day of show unless otherwise noted. For events sold out in advance, no additional tickets will be available at the door.
Artists
Mortiis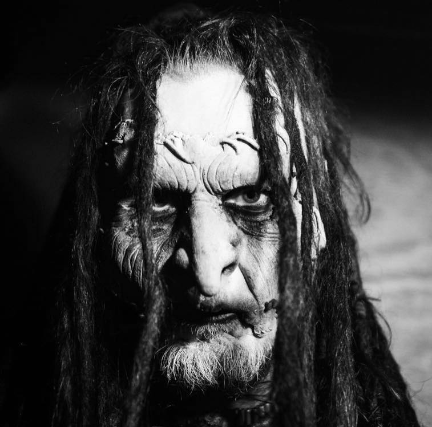 After Mortiis left Emperor, the Norwegian black metal band he was part of starting, in late 1992, he started Mortiis as a solo project, and released a number of solo records between 1993 and 1999.

Reinvented as a proper band, Mortiis released The Smell of Rain in 2001. Followed by The Grudge in 2004, and the remix record Some Kind of Heroin in 2006.

Disenfranchised with the brutality and hypocrisy of the record industry, Mortiis did not release a new album untill 2010, when the band self released the album "Perfectly Defect" – as a limited edition CD, and as a free download thrugh their own website.

The next record, The Great Deceiver, was completed around 2013, but did not see the light of day, until 2016 due mostly to events beyond the band´s control. Mortiis´ personal mental health being one of them.
The Great Deceiver was finally released in March 2016.

In the fall of 2016 work started on remixing The Great Deceiver. The result was "The Great Corrupter" and features over 20 reworks/remixes of material from The Great Deceiver, by artists as diverse as Godflesh, Die Krupps. In Slaughter Natives, Godflesh, Chris Vrenna, John Fryer, Prurient, Apoptygma Berzerk, PIG, and many more. Release date has been set to April 21st 2017.

Mortiis has toured fairly consistently for the past 15 years, and has shared the stage with a variety of artists and bands spanning genres ranging from black metal, to punk to industrial and EBM. Some of the bands Mortiis has toured with are Danzig, Behemoth, Apoptygma Berzerk, Combichrist, Christian Death, Mushroomhead, The Genitorturers, Deathstars, etc.

Mortiis is currently planning additional UK and European touring in 2017, as well as a variety of new releases.

Discography:

Albums:

Født til å Herske (1993)
Ånden som gjorde Opprør (1994)
Keiser av en Dimensjon Ukjent (1995)
Crypt of the Wizard (1997)
The Stargate (1999)
The smell of Rain (2001)
The Grudge (2004)
The Unraveling Mind (2006 - remains unreleased till latter this year)
Some Kind of Heroin - The Grudge Remixes (2007)
Perfectly Defect (2010)
The Great Deceiver (2016)
The Great Corrupter - The Great Deceiver Remixes (2017)

Singles:

Blood and Thunder (1995)
The Grudge (2004)
Decadent & Desperate (2005)
Doppelganger (download - 2015)
The Shining Lamp of God (download - 2016)
Demons are Back (download - 2016)
Geisteskrank (download 2016)

Several download singles are planned for between Jan-April 2017.
Tomb
Through 18 years of existence, T.O.M.B. (Total Occultic Mechanical Blasphemy) has created a multitude of horrific, spell-binding sound structures across thirteen different releases including compilations, splits, EPs and LPs. During that time, the project has devoted itself to developing material with an essence directly derived from areas and elements associated with death, paranormal activity and occult practices.
Formed in 1998, & inspired by projects such as Abruptum, Havohej, Samael, Sunno))) and Wardruna, T.O.M.B. members No-One, B. Zimimay and Samantha Viola – the trio also notable as King Dude-signed act Dreadlords – orchestrated their latest recordings into thirteen hypnotic and malicious tracks, resulting in a ritualistic album outside of the boundaries of contemporary Ambient, Doom, Industrial, Noise or traditional Black Metal music. When creating these field recording soundscapes, certain necromantic instrumentation was used: human and animal bone, cemetery crypt doors, tombstones and coffins, and audio EVP equipment.
Francis Roberts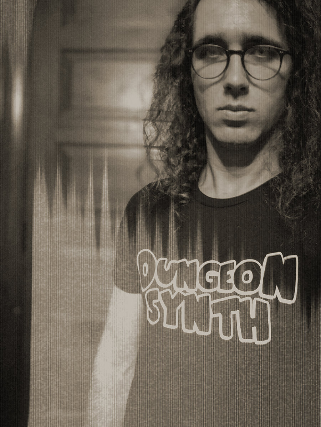 San Diego based songwriter, composer, performer, educator. I'm in Old Man Wizard and King Gorm, and I used to be in The Dread Crew of Oddwood and Leather Nun America.