Brick by Brick presents
Cattle Decapitation
with Atheist, Primitive Man, Author & Punisher, Vitriol
Dec, 22 @
7:00 pm
( Doors:

6:30 pm

)
Brick By Brick
Ages 21 and Up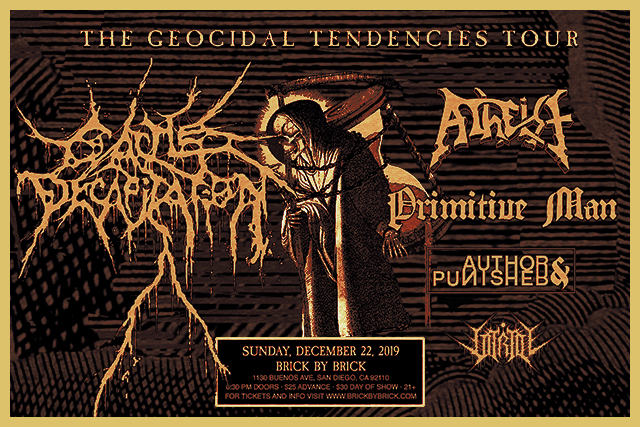 Additional Info
*Online sales end at 6PM day of show unless otherwise noted. For events sold out in advance, no additional tickets will be available at the door.
Artists
Cattle Decapitation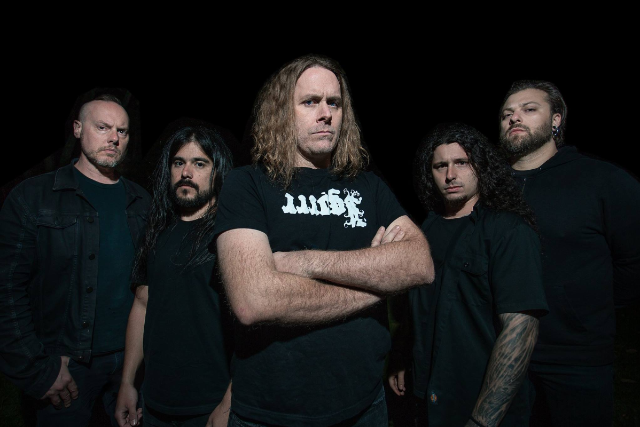 Compromise is not a concept Cattle Decapitation are willing to entertain. Ever. Over the course of nineteen years and six full-lengths the San Diego quartet have more than proven this, defining themselves as one of the most vital, brutal, and relentless forces in extreme music, and with The Anthropocene Extinction they have delivered a volatile, apocalyptic beast that is as hideous as it is compelling. "I feel that something rare happens with our band in that we get better and better with each release rather than going in the opposite direction, which happens to a lot of bands," states vocalist Travis Ryan. "As we get older we feel we have less and less to lose, which is freeing, and we really want to go as far out on a limb as we can without losing the extremity that has always driven us."

With 2012's Monolith Of Inhumanity Ryan, guitarist Josh Elmore, bassist Derek Engemann and drummer Dave McGraw delivered a sledgehammer blow, maintaining their position at the most violent end of the death metal spectrum yet expanding their sound, allowing a little more melody in without losing any of their intensity. As always tied together by a central concept, Ryan's bleak lyrics bluntly illustrated the fate of the human race if allowed to continue pillaging and destroying the planet. With The Anthropocene Extinction he extrapolates on this subject, looking back at the world in the aftermath of such ecological and environmental devastation, with its focus largely centered on the Pacific Ocean. "The Anthropocene Era is the time period where humankind has had the most profound negative effect on the Earth and its ecosystems and the record focuses on how we have managed to bring that era to an end. From even before the Industrial Revolution and into the present day, humankind's inexhaustible need for resources and explosive population growth have accelerated us towards a future world where we will have either consumed or polluted ourselves out of existence. When you look to the oceans the footprint we have left comes in the form of all the junk and plastic that has made it out there because we let that happen, and the effect that has, because when you start breaking down eco-systems it's a domino effect and will one day end up doing us in. The Anthropocene Extinction is set in the world that we destroyed, and lyrically, it's certainly the most depressing record I've written."

Of course, rather than taking such themes and applying them to introspective, navel-gazing music they weld them onto a soundtrack of all out savagery. Dominated by their blistering death-grind attack, shades of caustic black metal seep in across the record, and they further expand on the more epic and melodic aspects of its predecessor, at the same time making for a far more cohesive listening experience. "We've never actively said "let's do a black metal part" or "let's do a brutal blastbeat part!" We base everything on feeling, but we definitely focused much more on fluidity within the songs and making the record flow much more than on some of our earlier releases." With doom drenched opener "Manufactured Extinct" they set the scene, the monstrous "Clandestine Ways (Krokodil Rot)" - which turns the tables on the vivisectionists working in the cosmetic industry - and "Not Suitable For Life" perhaps the most intense and violent music the band have yet put their name to. Alongside these sit brooding instrumental "The Burden Of Seven Billion" and the melancholic "Ave Exitium", and across the record Ryan's mutated, high pitched melodic shriek - which could never be mistaken for 'clean' vocals - gets more space to breathe. This provides The Anthropocene Extinction with its catchiest parts, though dispensed sparingly and never forced, taking "Mammals In Babylon", "Apex Blasphemy" and closer "Pacific Grim" into somewhat tragic, desperate territory. "I think we came out with something pretty damn catchy, which I know isn't a common trait of this kind of music, but then again we're not trying to be like everybody else, or anybody else. When you have four drastically different opinions in a band that's where I think actual magic happens. We're all into very different things, and sometimes that can lead to conflicts, sometimes that can lead to greatness."

Reenlisting Monolith Of Inhumanity producer Dave Otero (Allegaeon, Cephalic Carnage), the band returned to Flatline Audio in Denver, CO, eager to revisit the close collaboration that helped bring that record to life. "Dave is a bonafide producer, he's got a lot of great ideas and this time we heard him out pretty religiously because making Monolith had worked out so well. We've always kind of co-produced our records with whoever we brought in, but these last two we did a lot more listening to what he had to say rather than just sticking with what we were saying. Sometimes we shot down his ideas and vice versa, but that discussion was always beneficial. He basically becomes the fifth member of the band at that point, and I think that kind of relationship is the best way to get anything out of anybody." The Anthropocene Extinction also features contributions from some notable guests, with Tristan Shone (AKA Author & Punisher) contributing to "Plagueborne", Bethlehem's Jürgen Bartsch providing a spoken word part - in his native German tongue - for "Pacific Grim", and Phil Anselmo lends his sandblasted larynx to "The Prophets Of Loss". "We originally didn't plan on having any guest appearances, but when the opportunities presented themselves while we were in the studio, they just seemed to fit perfectly and it was great we were able to actually get them involved."

The Anthropocene Extinction also sees the band extending their collaboration with Wes Benscoter, who has handled the artwork for every release since 2002's To Serve Man. "As with the case of Dave Otero, when we work with Wes he becomes a member of the band, and this also applies to Mitch Massie [who directed the notoriously NSFW video clip for Monolith Of Inhumanity's "Forced Gender Reassignment"]. I care about their opinions just as much as my own, and it's about putting the ball in the court of these guys as much as possible without sacrificing our artistic integrity." As usual, Benscoter formulated striking imagery that conveyed the record's themes in unflinching style, the cover featuring a bloated and distorted corpse washed up on a beach, its torn abdomen disgorging a mass of waste plastic. "It harkens back to what's going on with the albatrosses they have been finding on Midway Island for years. They're mistaking plastic for krill, ingesting this and dropping dead on the island, and as they decay the plastic inside them spills out. It paints a vivid picture of what's going on out there, and we're taking that and putting that within a human context, because, as I said before, it's a domino effect that ultimately leads back to our own downfall."
Atheist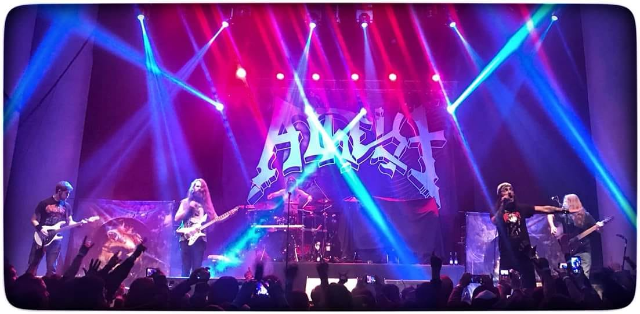 Back in the mid eighties Florida started to be one of the most productive area in the whole world as far as quality Heavy/ Thrash/ Death Metal bands are concerned, even if that state of things have somewhat changed during the last six years or so since the scene mainly died as it got overcrowded. And like in every genre of music, there are leaders and there are followers, ATHEIST comes from the first category.
The first incarnation of the band came out under the name of OBLIVION in 1984 and was formed in Sarasota by Kelly Shaefer as guitarist and a drummer named Mark who was soon replaced by Steve Flynn who shared Kelly's musical tastes. They started writing originals such as "State Of Oblivion" at a time that they were starting to learn playing their instruments. By early 1985 they had changed their moniker for R.A.V.A.G.E. (Raging Atheists Vowing A Gory End) and recruited a singer named Scrappy. With that line up they were playing more originals such as "Undefiled Wisdom" or "On They Slay" but also covers from ANTHRAX, EXODUS, TROUBLE, SLAYER... A while later at a local show they jammed with Roger Patterson, a prodigy who was playing bass in the Bradenton based band Thrash act AGGRESSOR and it didn't take long to him to join R.A.V.A.G.E.! At the same time they dropped Scrappy who was too melodic and Kelly took over on vocals. They started it all over again as a three piece act working on more originals and playing local shows with local acts such as B.P., NASTY SAVAGE, HAVOC.....
In August 1985 they entered Progressive Studios in Tampa to record one song "Kill Or Be Killed" which was added to four other songs that were recorded live on a mixing desk due to a lack of money and that became the "Rotting In Hell" demo. Despite the rough sound, the tape did quite a bit to establish the band's name in the underground via the tape trading and fanzine network.
In November 1986 they added a second guitarist, Mark Sczawtsberg. One month later they recorded their first real studio effort, the "On They Slay" demo, this three song affair was a much superior effort to its predecessor. This tape was very well received by the underground, receiving excellent reviews from magazines and fanzines such as Total Thrash, Kerrang, Nightmare and from the mighty Violent Noize whose editor was the long time underground Metal specialist, Borivoj Krgin. This guy was so impressed by this new effort that he offered them to appear on a compilation called "Raging Death" issued by a newly formed label, Godly Records and also became their manager.
Before the compilation was issued, Mark left the band because the other guys were not so happy with his lead work and was replaced for like two days by a guy named Gary, just enough time for the guy to appear on the shot of the "Raging Death" compilation which featured also future heroes such as XECUTIONER (pre- OBITUARY) and SADUS.
"Raging Death" was issued mid 1987 and included the tracks "Brain Damage" and "On They Slay" from R.A.V.A.GE., needless to say that it was a total success for the band despite the limited availability of the record.
It was also the first and last time they appeared on a record under the R.A.V.A.G.E. moniker as they decided to change it for ATHEIST because they didn't want to be confused with another Illinois based band with almost the same name and they also thought ATHEIST fitted much better their vision.
Armed with a brand new name, the still three piece act recorded a third effort entitled "Hell Halth No Mercy", another three song affair which featured a new version of "On They Slay", much faster and heavier. But the band wasn't happy at all by the sound of that new effort so they never made it available to the public (even if it still made to tape trading lists!). At the same time the band did some local shows as a three piece playing with acts such as XECUTIONER, NASTY SAVAGE...
Early 1988 they finally recruited Rand Burkey as second guitar player who was running sound for them previously. In April 1988 with a bunch of new songs written, ATHEIST entered Morrisound Studios to record their fourth demo tape entitled "Beyond". Without any doubt, this five song affair was their most successful effort since it received rave reviews throughout Europe and the USA in mags like BLACKTHORN, NO GLAM FAGS, T. THRASH and METAL FORCES where it was voted by the readers as best demo and best band in 1990! Needless to add that the tape was a hit in the tape trading circles.
The band didn't stop here as they opened several shows for TESTAMENT, VIOLENCE, DEATH and DEATH ANGEL (replacing RIGOR MORTIS at the last minute). Then after several months of negotiations, ATHEIST finalized a deal with Mean Machine Records (a subsidiary label of Three Cherries Records) since Borivoj worked for that new label. The band entered in November 1988 Morrisound Studios with the help of Scott Burns as producer (previously known for his work with SEPULTURA, DEATH, WHIPLASH, XECUTIONER..) to record their first album "Piece Of Time". Unfortunately it appeared a brief while after that it would go nowhere as the label was going bankrupt so the band had no other way than looking for a new deal. So during 1989 both Roadracer and Active Records showed interest in the band, and ATHEIST signed a deal with the U.K. based label, Active Records (fronted by Metal Forces scribes) with the hope that "Piece Of Time" would be issued worldwide in a short period of time at a moment when more and more Florida Death/ Thrash Metal acts were putting their mark on the scene. Unfortunately the album was only released in Europe in early 1990 and more than six months later in The States after being licensed by Metal Blade Records. It went as far as the band had almost all the material ready for their second album (and they even performed some of it on a regular basis) while their first album wasn't yet issued!
During 1990 the band had the opportunity to play relatively big local shows with acts such as NAPALM DEATH (who played their first show ever in the States!), MORBID ANGEL, OBITUARY, FORBIDDEN, DEATH ANGEL, EXODUS and even headlined for the first time the Tampa Bay Metal Awards on September 1st 1990 followed three weeks later by another headlining gig, this time at the Day Of Death festival in Waukesha, Wisconsin where about 25 other bands appeared such as HELLWITCH, OBLIVEON, CYNIC, IMMOLATION, REVENANT... a real success for the band (which was only the second time they left the state of Florida to play a gig, the first was in Louisiana) despite the poor turnout for such a festival. But for those who followed the band for a long time, it was easy to see that ATHEIST were developing at a fast pace into something totally unique as it could be heard on songs such as "I Deny", "Piece Of Time" and newer stuff such as "Unquestionable Presence", "Enthralled In Essence" or "The Formative Years" that the band had included in their set.
It would be criminal to not mention that the band entered the Morrisound Studios again in August 1990 to record a pre production tape for their second album featuring six brand new tunes where Roger can be heard at its best in my opinion. A pre production tape which was supposed to be included as a bonus thing when the second album was issued in 1991 but that never happened unfortunately for unknown reasons.
Mid December 1990 saw the band going in Europe for the first time, in Scandinavia to be exact, as they played three shows there supporting CANDLEMASS (who were also on the Active rooster), one in Norway and two in Sweden including one in Fagersta where the band played at a festival along with ENTOMBED, KAZJUROL, MORGOTH and CANDLEMASS. Those gigs showed that the European crowds weren't afraid to accept the kind of Metal ATHEIST played but only three dates were allowed to the band.
By mid January 1991, the band started their first U.S. tour supporting CANDLEMASS for about 28 dates including one in London, Ontario, Canada and despite the poor turnout for CANDLEMASS on most of the dates, it gave live experience to the band. Unfortunately as the band had finished the tour in California and were driving home, the worst of the worst happened in Louisiana when they were involved in a road accident with their van and the Metal scene lost one of the most brilliant musician ever and also one of the most down to earth person in Roger Patterson on February 12th 1991. Roger Lee Patterson was just 22 when he died....
But the band carried on and tried to enlist ex-WATCHTOWER/ RETARDED ELF bass player, Doug Keyser to record the second album ( the band were supposed to enter the studio to record it just after they were back from their first U.S. tour at first) but he refused, saying that it wasn't his style of music...bollocks if you ask me but anyway, the band finally decided to enlist as session player, Tony Choy from the Miami based act, CYNIC- a band who had shared the stage with ATHEIST a couple of times in 1990, and the band entered Morrisound Studios with Scott Burns again as producer in June 1991 to record their second effort "Unquestionable Presence". The result is simply amazing and unheard of before so many people didn't understand what the band had tried to achieve with this effort. This album will always remains as one of the most complicated and best effort ever in the Metal archives along with the RUSH, WATCHTOWER albums and the CYNIC one.
With that new line up, the band played a couple of local shows, including a second appearance at the Tampa Bay Metal Awards on September 1st 1991 where Roger was voted as best bassist as a posthumous thing, that show marked also the last performance of Tony Choy in the band at that time as he choose to join as a session thing the Dutch band, PESTILENCE for their upcoming U.S. tour with DEATH. Unfortunately ATHEIST weren't expecting that as they were on the verge to go on tour. Choy was replaced a few weeks later by a local bass player previously seen in BLACKOUT, Darren McFarland, another amazing bass player. With him they played more local shows including the release party show for their album and one week later another one with CORONER.
Early January 1992 saw ATHEIST embarking on their second U.S./ Canadian tour, this time supporting labelmates CANNIBAL CORPSE and having GORGUTS opening for them. But like it was easy to imagine, it was the wrong bill for ATHEIST as the guys were yelled at during some shows mostly in Toronto, San Antonio and Chicago by people who didn't expected that kind of technical thinking Metal mixed with the ultra brutal straight forward animalized sounds of C. CORPSE or GORGUTS.
Spring 1992 saw the band headlining local shows with acts such as DECEASED. There was talks about seeing the band doing a European tour in April/ May 1992 with SUFFOCATION and GOREFEST as support (it went as far as having the dates published in the mags in Europe) but the two other bands did the tour without ATHEIST, the reasons are still mostly unknown to this day why they didn't come in Europe...

By July 1992 the band was no more. Kelly concentrated on a band he had joined named NEUROTICA, a Rock orientated band, Steve was back to the college, Rand was doing nothing and Darren had joined CYNIC for the recording of their album but it didn't work with him.
But before Kelly could really concentrate on NEUROTICA, he had contractual obligations to fulfill with ATHEIST so he had to deliver a last album for Active Records in a short period of time as he had to deliver an album in a 40 days period! He hooked up with Frank Emmi, a GIT guitar player who was playing in local band called GENTLEMEN DEATH, and started to write and rehearse with him, his drummer Mickey and his bass player, unfortunately it didn't work with the Mickey and the bass player. That's when Tony Choy came back into the picture as he wasn't involved with CYNIC anymore. Also while Kelly had worked earlier on some NEUROTICA stuff in Gainesville, he met with Josh Greenbaum the drummer from ALEKA'S ATTIC fronted by the actor River Phoenix and he asked him to join the line up. Two weeks later Rand Burkey was also back in the band, and ATHEIST had a new line up with three guitar players! Mid 1993, the band went on studio but this time at the Pro-media Studios with Mark Pinske as producer (who had worked previously with artists such as Steve Vai, Frank Zappa...). "Elements" was issued this time on Metal Blade in the States, this time fully signed by the label and on Music For Nations in Europe during the first week of September while the band were doing their first real European tour as support for BENEDICTION and with CEMETERY as openers. For this tour they recruited Marcell Dissantos as drummer since Josh had recording obligations with River Phoenix. The tour went throughout Europe and was a real success for them despite the fact that they were once again on a Death Metal bill. On October 24th 1993, the band who had just came back from Europe a couple days before played their last show ever for the release party of "Elements" at the Club Detroit in St Petersburg, Florida. A few days after, an internal dispute over financial matters led to the split of Tony and Marcell, while Randy who was arrested following a felony charge at around the same time prevented him from leaving the country in the future at a time they had a new European tour planned for November 1993 with WARGASM and AGRESSOR. That was the end for them.
Primitive Man
Denver's PRIMITIVE MAN's music matches its name: a savage, sparse mix of death metal, blackened noise, and doom riffs. The threepiece was formed in February of 2012 by Ethan Lee McCarthy, Jonathan Campos, and Bennet Kennedy (all current and former members of Vermin Womb, Withered, Clinging To The Trees of A Forest Fire, Death of Self and Reproacher). In October of 2012 the band recorded their debut LP Scorn at Flatline Audio with Dave Otero (Cephalic Carnage, Cobalt, Catheter, CTTTOAFF). Scorn was released a collaboration between Throatruiner and Mordgrimm Records. After the release of Scorn, the band parted ways with Kennedy and recruited Isidro "Spy" Soto to temporarily take over on drums for a number of tours/releases before settling on a permanent replacement in drummer Joe Linden in 2015. The band also self-released a three-song EP in February titled P/M.


The unique metal hybridization of Scorn caught the attention of Relapse, who liked the record enough to sign the band and reissue the full-length in summer 2013. Dubbed a "totally malignant sounding record and one that will consume you whole if you're not careful," by Cvlt Nation and called "the best worst thing that has ever happened to you," in an 8/10 review from Metal Hammer, Scorn found PRIMITIVE MAN celebrating a slow-roasted apocalypse through seven suffocating hymns of hatred, disease and sonic deviance. The record put the band on the map for many listeners, and enabled PRIMITIVE MAN to embark on a relentless touring schedule that would soon see the band playing live shows across the US and Europe (often for the vast majority of the year) in company with acts such as Magrudergrind, Weekend Nachos, Hexis, Reproacher, Fister, Celeste, Opium Lord, and Northless. PRIMITIVE MAN also played Denver Black Sky in 2013 alongside Relapse brethren Dying Fetus, Exhumed, Skinless, Iron Reagan, Mammoth grinder, Call of the Void, and Weekend Nachos.


All of Ethan McCarthy's projects have been prolific, and PRIMITIVE MAN is no exception – the band released four splits between 2013 and 2015, and dropped another bombshell of nihility in 2015 with its Relapse EP Home Is Where The Hatred Is. The EP was well-received by publications including Metal Injection, MetalSucks, Revolver, and Exclaim!, the latter of who stated, "unapologetically bleak and permeated by loathing and hostility, Home Is Where The Hatred Is will either leave you wanting more or contemplating teetering off a ledge." Despite their primeval, bludgeoning approach, PRIMITIVE MAN wouldn't exist without their savage awareness of modern humanity: simultaneously old and new, atavistic and groundbreaking, PRIMITIVE MAN stands to redefine current conceptions of hope, faith, and metal music.
Author & Punisher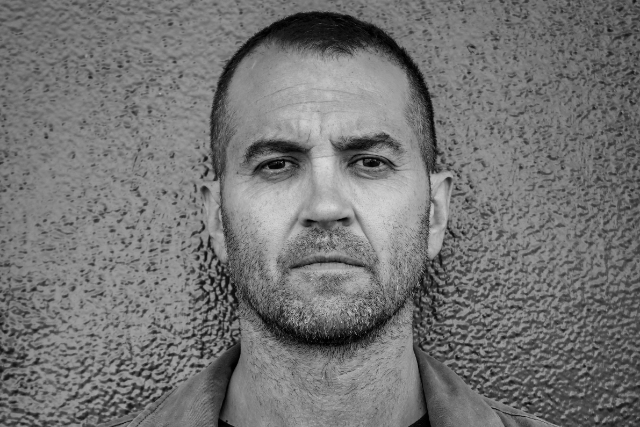 Vitriol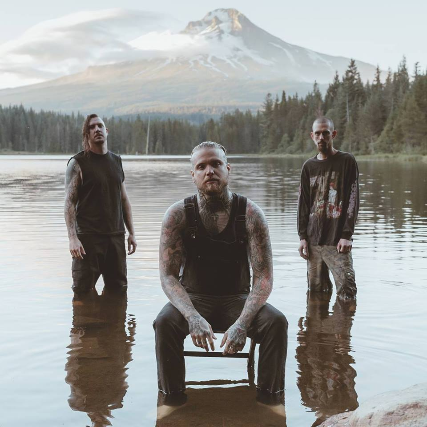 Three piece extreme metal from Portland, Oregon.
Punishment, cruelty, and death.
Worship violence.