Brick by Brick presents
Insomnium
with Omnium Gatherum, Seven Spires, Thrown Into Exile
Apr, 2 @
8:30 pm
( Doors:

8:00 pm

)
Brick By Brick
Ages 21 and Up
$24 adv & $28 day of; $60 VIP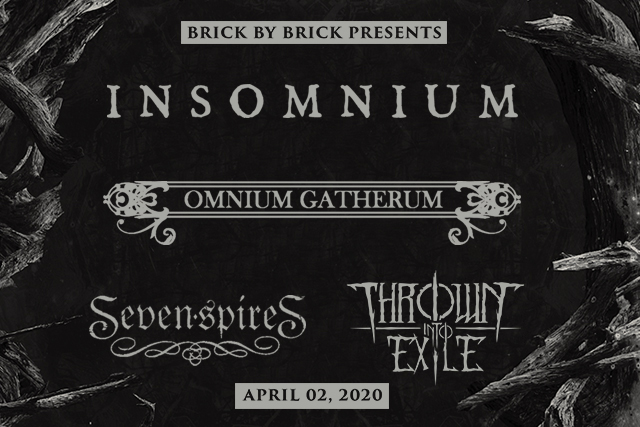 Additional Info
*Online sales end at 6PM day of show unless otherwise noted. For events sold out in advance, no additional tickets will be available at the door.
Artists
Insomnium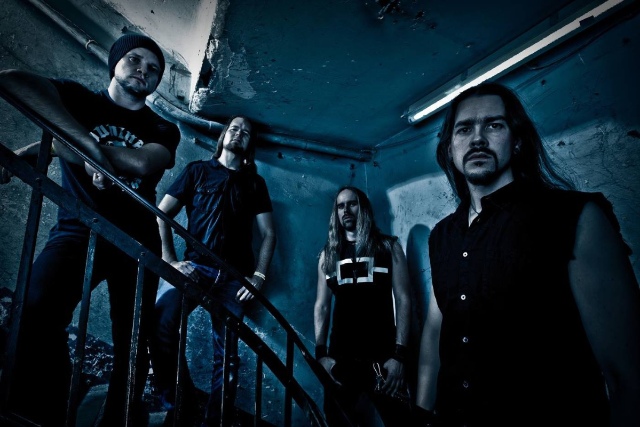 Hailing from the land of thousand lakes, boasting with a thousand melodies and spawning a thousand emotions comes "Shadows Of The Dying Sun", sixth studio albumof Finland's melodic metal magicians INSOMNIUM. An album born of the melancholy, sorrow and dreariness of long winter nights, as relentless and overwhelming as an autumn storm and yet as refreshing as the first sunbeams of a spring morning and as peaceful as a mild summer's eve.

Two and a half years after their acclaimed masterpiece "One For Sorrow" the Finns return with an album that brings them one step closer to the Olympus of melodic metal where their established countrymen Amorphis shouldn't ensconce themselves too comfortably. "Shadows Of The Dying Sun", which once again immerses deeply into stirring abysses of melancholy, is even more varied, intense and dynamic than its predecessor – with each new album INSOMNIUM seem to bring their songwriting craftsmanship closer to perfection. "We haven't changed our style dramatically", vocalist and bassist Niilo Sevänen explains the general approach of the new album. "Fans can rest assured that it is still classic INSOMNIUM. Of course there's also some new flavors here and there, and maybe it's even more diverse compared with the last album. The easy stuff is easier than before, the heavy stuff is heavier. The contrasts between the songs are probably bigger than on any of our previous albums."

Exhibit A for the impressive sonic range INSOMNIUM cover on "Shadows Of The Dying Sun" is placed right in the centre of the album: While the beastly "Black Heart Rebellion" features brutal blast beats and even ventures into black metal realms, the ensuing gut-wrenching semi-ballad "Lose To Night" may be the softest song INSOMNIUM have ever written. An emotional roller coaster the listener cannot flinch from. Of course it takes some reruns to fully grasp all the subtleties and details of the majestic compositions gathered on this tantalizing opus, however, those are the kind of records that outlive the rush of fresh excitement and finally become something bigger than just another new album, aren't they? "That's what we aim for, to have an interesting, diverse, long-lasting album that you don't get fed up with", Sevänen describes the musical self-conception of a band that has evolved impressively since their foundation in the Finnish university city of Joensuu back in 1997.

Inspired by bands such as their legendary countrymen Amorphis and Sentenced, early Paradise Lost or Swedish genre pioneers à la In Flames, Dark Tranquillity, At The Gates or Opeth, 17-year-old Sevänen buried his grunge band and asked his metalhead schoolmates Ville Friman and Markus Hirvonen if they wanted to form a metal band with him. From that point, the only direction for INSOMNIUM was up: album by album – from their 2002 debut "In the Halls Of Awaiting" via "Since The Day It All Came Down" (2004), "Above The Weeping World" (2006) and "Across The Dark" (2009) through to their Century Media debut "One for Sorrow" (2011) – also introducing Markus Vanhala as the new fourth member. And tour by tour the passionate musicians edged their way to the very top of the scene and have by now become the spearhead of melodic death metal made in Finland.

Even the departure of longtime guitarist Ville Vänni shortly before their tour supporting "One For Sorrow" at the end of 2011 couldn't knock INSOMNIUM off course. With new guitarist Markus Vanhala, who has contributed considerably to "Shadows Of The Dying Sun", they found an equal substitute for Vänni who left the band amicably for personal issues.

Maybe an album title like "Shadows Of The Dying Sun" might sound cliché for a melodic metal band from Finland at first. However, once you are lost in the fascinating sonic realms that INSOMNIUM conquer here, "Shadows Of The Dying Sun" suddenly becomes the only title possible. Branding the band as cliché Finns would be quite superficial anyway, especially as melodic monsters like "While We Sleep" or the album's first single "Ephemeral" exude an immensely positive aura. "Somehow our music has always something sad, dark and dreary, and our lyrics just fit the music. It's the kind of music we love and want to make, the kind of music that makes us feel good. It doesn't mean that we are depressed or sad in our lives", Sevänen muses. "And we do have empowering, hopeful and uplifting songs as well, even though at first sight some song titles may appear quite sad and melancholic. But there is an optimistic vibe hidden somewhere in our lyrics, some hope that not all is lost."

An optimistic vibe becomes INSOMNIUM anyhow, seeing that they are about to conquer new frontiers with their manifold sixth studio album whose cover was once again designed by Ghost Brigade guitarist Wille Naukkarinen who had already done such a great job on "Across The Dark" and "One For Sorrow".

Fearlessly and wakefully, INSOMNIUM now dispel the shadows of a dying sun – and head into a new tomorrow: The dawn of musical majesty.
Omnium Gatherum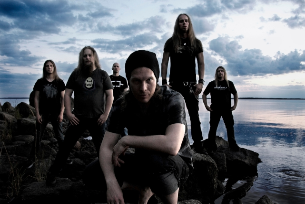 From the northern parts of the globe, from Finland, comes Omnium Gatherum - A melodic death metal band known for it's fierce live performances and fresh ingenious sound.
Made of six members Omnium Gatherum delivers sophisticated but aggressive metal that is catchy yet original in composing and arranged to be listened to time and again. Their "trademark" is to push the music ever forward without losing the heritage of the genre - to make something new and still maintain the feeling that is deep in the soil of melodic death metal.
The thing about the band is that it has evolved through the years to be more than the sum of it's members. There is real feeling of a family within the group that has made OG to take a life of it's own so to speak. This is truly like a natural phenomenon and it has demanded a lot from all the members throughout the years - Omnium Gatherum lives up to it's name!
Six strong albums and countless gigs around the world. Now at the dawn of the seventh chapter Omnium Gatherum pushes onward stronger than ever. Enjoy the ride! We know we will!
Seven Spires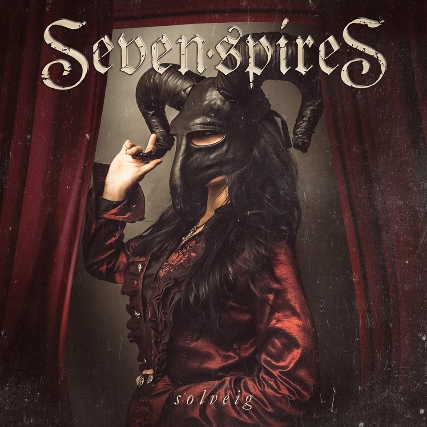 Seven Spires is an American metal quartet specialising in melancholic tales and tenebrous grandeur. Part bittersweet melodic metal anthems, part apocalyptic melodic death and black metal, and part Romantic Classical poets, they are storytellers who draw from across the traditional spectrum of metal and beyond to weave tragedies of demons, death, love, and the peculiarities of human condition.

Following a highly successful crowdfunding campaign and release of their debut album "Solveig", Seven Spires performed extensively in the US, Canada, and at festivals such as MetalDays, 70,000 Tons of Metal, and ProgPower USA. They are in the final production stages for their second full length record, which will once again be mixed and mastered by Sascha Paeth (Avantasia, Kamelot, Epica, etc).


Seven Spires' new album "SOLVEIG"

Seven Spires' new album is "SOLVEIG", a theatrical metal concept album in two acts. It is the story of a lost soul and his journey through a Demon's sunless neo-victorian underworld. Despite small glimmers of hope, it is a grim tale with a heavy focus on escapism, death, and decadence. With distinct attention to melancholic power metal, melodic death, and black metal, Seven Spires fuse sounds from across the spectrum of metal with their great love for Romantic composers, and the atmospheric and storytelling capabilities of film scores.

"Solveig" is available worldwide NOW!
Thrown Into Exile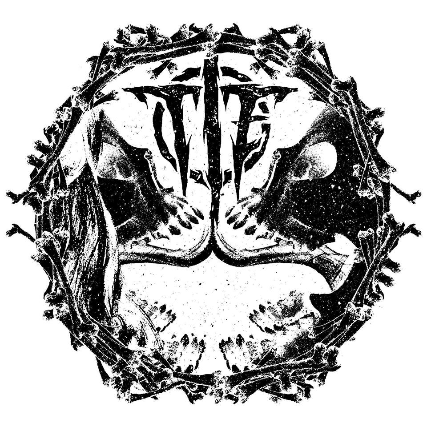 ​Thrown into Exile is a five-piece American metal band from Los Angeles, California, United States. They got their first break in 2012 when they were able to win the "Road to Mayhem" competition to secure a slot performing on the same bill as bands Slipknot, Motörhead, Anthrax, and Slayer. The band has so far released one EP and toured on the Mayhem Festival 2013 in support of it. The band has opened for a number of notable bands including Sepultura, Fear Factory, Chimaira, All Shall Perish, Testament, Morbid Angel, and more