Brick by Brick presents
Nebula
with Sasquatch, Desert Suns
Aug, 23 @
8:30 pm
( Doors:

8:00 pm

)
Brick By Brick
Ages 21 and Up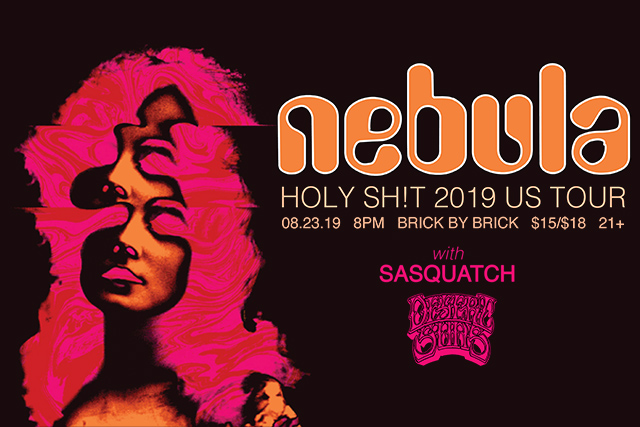 Additional Info
*Online sales end at 6PM day of show unless otherwise noted. For events sold out in advance, no additional tickets will be available at the door.
Artists
Nebula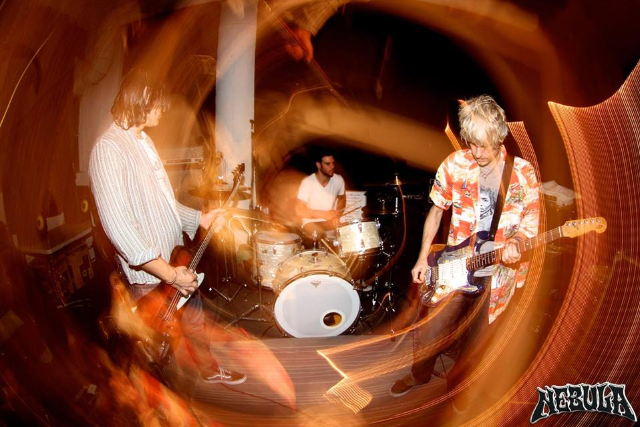 L.A. power trio Nebula, whose cosmic cocktail of heavy riffs, electric blues and psychedelic space rock has earned the band international (and, dare we say, universal) acclaim have returned .

Nebula released their first album on Tee Pee in 1998 titled Let It Burn. Let It Burn is being reissued on vinyl later this year and will be released as a limited edition double LP, the first LP containing the original Let It Burn album plus two bonus tracks and a second LP will contain the original demos from the Let It Burn sessions.
The great swirling, electrical ball of dynamism and potential known as Nebula formed in the mythical abyss of Los Angeles in 1997. In its current incarnation the band is comprised of Eddie Glass (Guitar/Vocals), Rob Oswald (Drums) and Tom Davies (Bass/Vocals).

Nebula creates pure guitar-driven, conscious expanding rock for the 21st century and Heavy Psych has everything you could want and need to start the ceremony. They are a culmination of their rock forbearers such as Jimi Hendrix, MC5, The Stooges and Mudhoney turned up a notch, taken to the next level and blasting through space. Nebula spread their gospel through their music and what they are preaching will leave the congregation on the floor.

Combining the combustibility of the sun with the mysticism of the moon, Heavy Psych lives up to its name, no matter your preferred definition, and reaffirms Nebula's reputation as one of rock's brightest stars – in this galaxy or any other.
Sasquatch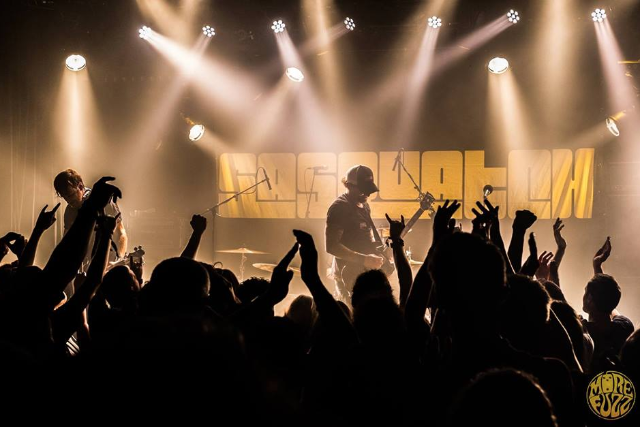 Sasquatch is a rock band from Los Angeles, CA. They tend to sip on influences from 70's metal, rock, and psychedelia. Their songwriting approach is clear-cut; keep the focus on the hook.

The band was born in Philadelphia in 2000 and moved to Los Angeles in 2001 after Keith Gibbs (guitar, vox) joined up with Detroit natives Rick Ferrante (drums) and Clayton Charles (bass). Upon Clayton's departure in 2007, the guys recruited Chicagoan Jason Casanova (Behold! The Monolith, Tummler) to join the fold. We arrive at 2017 and Dr. Craig Riggs (Roadsaw, Kind, Antler) is now shellacking the kit when he's not brewing coffee or watching the Red Sox.

The band's music has been featured on a variety of movies, television shows, and video games including the reissue of Clerks, FX's original hit series Sons of Anarchy, A&E's Dog The Bounty Hunter, Jersey Girl, CW's The Supernatural, and MTV's Viva La Bam, Bam's Unholy Union, and Rob and Big, NHL 2005, American Chopper, and Monster Garage.

After shaking some walls with not one, but two, closely packed studio albums (the self-titled debut and "II") in 2004 and '06, the power trio went subterranean until 2010 before resurfacing with a new lineup and propulsive third opus, "III", followed up by the straight-ahead rocker, "IV", in 2013.

The band's latest album, Maneuvers, was released in June 2017 and features the work of Riggs behind the kit. This is the band's most concise work to-date. Extended jams were stripped down to the meat and potatoes. Short and sweet is the path looking forward. Andrew Schneider (NYC) returned behind the boards this round. You may recognize the name as he also provided the mixes on "II". What fans hear is arguably the gents most mature and inspired song-set released, chunked with both heartwarmingly familiar moments – but all of it heavy on the heavy, as they say…always. Unprecedented attention was also devoted to spinning new yarns out of those evergreen rock and roll stories about love lost, hate found, relationships built and lives trashed, homes wrecked, etc.

Coming off their first Australian tour, look for the band to be gearing up for extended US dates later in the Summer of 2019 and its next European tour in the early Spring of 2020. All's fair in Love and Doom.
Desert Suns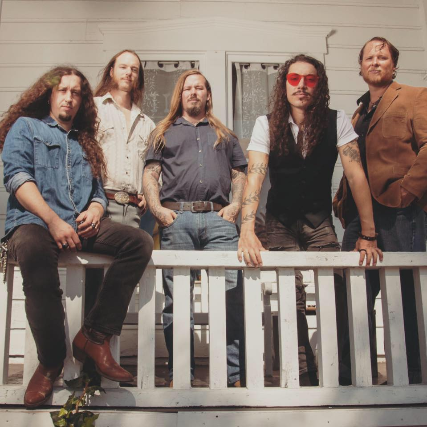 There's a new sheriff in town by the name of Desert Suns. It seems that bands today are having to do more and more to stand out and these fellas have done just that. Where stoner rock, doom, sludge, psychedelic and blues all overlap you get Desert Suns. A San Diego band formed in 2013 by four hefty dudes with enough hair to challenge Cousin Itt to a test of anonymity. Soon after forming they released their single "Burning Temples" January of 2014 which helped them to acquire a great fan base and got them some great reviews. "Some of the doomiest riffs that would make one Mr. Iommi a very happy and proud person" says Bill Goodman in his review of the Desert Suns single Burning Temples. Their debut, self-titled album was released later that year on August 16th 2014 and reassured fans that they were no one-hit wonder and also got them enough attention to book gigs all around the city. This attention is much deserved as the band has a genuine fluidity and a fresh take on how we hear rock. Although the band has the ability to rip out some heavy material that would even get Grandma headbanging, they know how to seduce through gritty Americana thanks to well-placed harmonica and purring vocals. From beginning to end, Desert Suns has compelling hooks, an addictive atmospheric energy and heavy, pulsating beats that get blood boiling with obstreperous energy.