Brick by Brick presents
Goblin
with Gigan, The Lion's Daughter
Nov, 14 @
7:30 pm
( Doors:

7:00 pm

)
Brick By Brick
Ages 21 and Up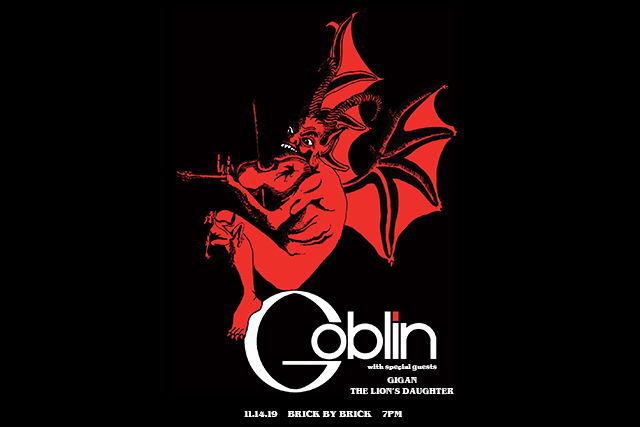 Additional Info
*Online sales end at 6PM day of show unless otherwise noted. For events sold out in advance, no additional tickets will be available at the door.
Artists
Goblin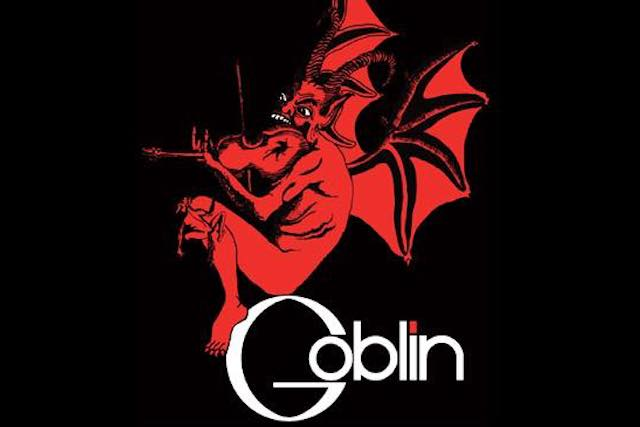 Italian instrumental prog/soundtrack icons Goblin — whose current lineup includes Massimo Morante, Maurizio Guarini, Fabio Pignatelli, and Agostino Marangolo (all of whom played on Suspiria) — released new album Fearless (37513 Zombie Ave) late last year which follows in the style they created and have honed over the last 40 years.
Gigan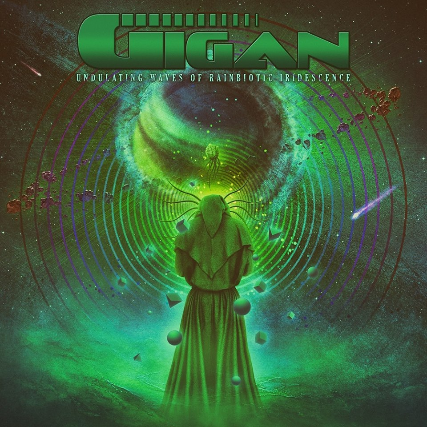 GIGAN is the brain-child of founding member; multi-instrumentalist and lyric/conceptual mastermind Eric Hersemann. GIGAN's existence began more than a decade ago in 2005, after Hersemann's stints in Tampa, FL's Diabolic and Hate Eternal. Prior to that, Eric's time was spent sharpening his blades in his hometown of Chicago, IL with the likes of Chicago legends Burnt Offering and Death-Thrash innovators Lord Blasphemer. After writing, recording and releasing GIGAN's "Footsteps of GIGAN" demo and the first two GIGAN albums (Order of the False Eye on Napalm Records and Quasi-Hallucinogenic Sonic Landscapes on Willowtip Records) in Tampa, Eric relocated to his roots in Chicago and began the writing process for GIGAN's critically acclaimed masterwork : "Multi-Dimensional Fractal Sorcery and Super-Science".

"Multi-Dimensional Fractal Sorcery and Super-Science" was recorded with Eric's longtime partner in crime; engineer Sanford Parker (who has recorded all three GIGAN albums) , and released in October 2013 on Willowtip Records, to almost universal praise and enthusiasm. In addition to worldwide coverage and publicity in the form of interviews and rave reviews, GIGAN has continued to be blessed with amazing touring opportunities both domestically and internationally. Having been a dedicated touring act for ten years GIGAN has been able to bring Hersemann's twisted visions around the world; much to the delight of GIGAN's ravenous and open minded fan base. GIGAN has been fortunate to share the stage and tour with Cattle Decapitation, Psyopus, Lightning Swords of Death, Grave, Immolation, Vital Remains, Misery Index, Belphegor, Blood Red Throne, Jungle Rot, Pyrrhon, Artificial Brain and many more. GIGAN's first foray into the European concert markets saw them on tour with their peers Ulcerate (Relapse Records)and Wormed (Season Of Mist Records) in October 2014. The tour went well enough that GIGAN was immediately invited back to headline a tour of their own in Europe in October 2015! After returning from their second European tour, Hersemann began the most recent writing process and next musical evolution of GIGAN.

"Undulating Waves of Rainbiotic Iridescence"; GIGAN's fourth full length album, was recorded at Big Bad Sound Studios in Los Angeles, CA in the Spring of 2017 with longtime friend, engineer and ally Sanford Parker. Colin Jordan once again, was in charge of the mastering process. All art and layout was completed by Dr.Winter.
The official street date is September 15, 2017!!!

Often imitated but NEVER duplicated, GIGAN has and always will be dedicated to the craft of making the most imaginative, fearless and thought provoking extreme metal in the known Universe!!! THRASH IN SPACE!!!
The Lion's Daughter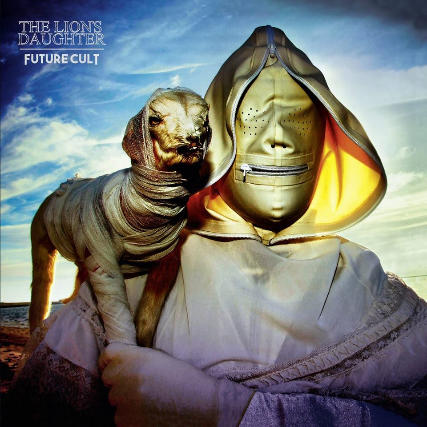 The musical equivalent of what the most frightening, violent, and disturbing scenes from a good midnight movie might sound like. THE LION'S DAUGHTER from St. Louis, Missouri unleash a crushing assault of dense frying riffs, pummeling rhythms, pumping bass lines, and throat-shredding vocals supported by creepy synthesizers creating a seething intensity that borders on the frightful. Their third full length album, 'Future Cult' is without doubt a fitting soundtrack to the post-apocalyptic hellscape that is to come.


THE LION'S DAUGHTER was formed in 2007 by guitarist / vocalist Rick Giordano, drummer Erik Ramsier, and bassist / vocalist Scott Fogelbach. The band was originally conceived out of hatred for the insincere and uninspired fodder that was choking the mainstream metal scene. They take inspiration from a myriad of extreme metal's subgenres but live by no musical limitations and are driven to please no audience but themselves. THE LION'S DAUGHTER don't just play as if they want to see this world end, their sound implies that they want to be the ones to destroy it.

Since the band's inception, THE LION'S DAUGHTER have built a reputation as a formidable live force, sharing stages with HIGH ON FIRE, PIG DESTROYER, BEHEMOTH, TORCHE, MISERY INDEX, NACHTMYSTIUM, DARK FUNERAL, and many others. True to their underground ethics, the musicians toured around the United States on the backs of several independent EPs and split releases.

Back in 2016, 'Existence Is Horror' came with the expected anger and aggression and easily detectable undertones of early NEUROSIS. Yet something of the creeping mood and atmosphere that also reminds of groups like SKINNY PUPPY or even GOBLIN.

Let THE LION'S DAUGHTER guide you on an even darker musical ride through the mind with the 'Future Cult'!