Brick by Brick presents
Skeletonwitch
with Soft Kill, Wiegedood, Portrayal of Guilt
May, 21 @
8:30 pm
( Doors:

8:00 pm

)
Brick By Brick
Ages 21 and Up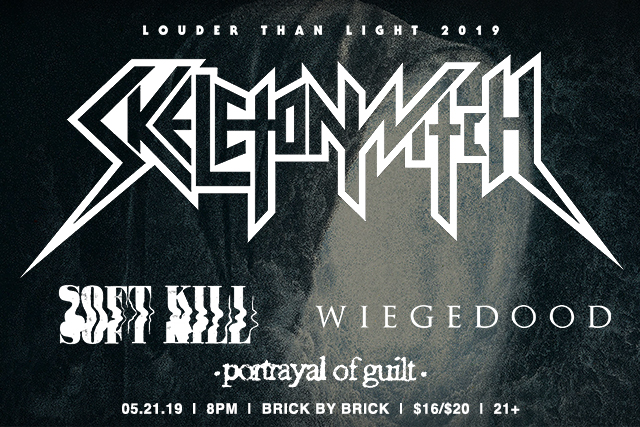 Additional Info
*Online sales end at 6PM day of show unless otherwise noted. For events sold out in advance, no additional tickets will be available at the door.
Artists
Skeletonwitch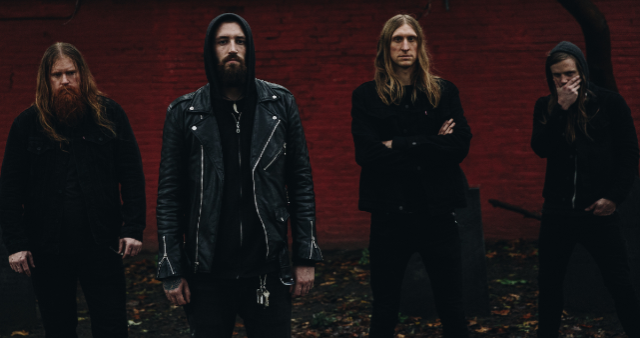 With 2018's Devouring Radiant Light ("DRL"), Skeletonwitch have succeeded where
many bands have failed: they have reformulated their sound mid-career with
dizzyingly triumphant results. Since the band's inception, they have been known for
blending and bending metal subgenres. Their collective love of Judas Priest,
classic-era Metallica and Immortal has always been worn on their sleeves. However,
it's the band's blacker leanings that have shifted to the forefront and altered the
tenor of the through line on this latest offering.

Grasping the blackened thread of "White Light" that first appeared on their 2016 EP,
The Apothic Gloom (the band's first recording with vocalist Adam Clemans),
Skeletonwitch has emerged with the eight-song, searing, soaring, burning statement
of purpose. DRL demonstrates a band coalescing both compositionally and
conceptually. Three of the eight tracks on DRL hover near the seven minute mark
and a fourth nearly reaches nine minutes. DRL is a band cultivating new ambition.
While black metal has always been a recognizable component of the Skeletonwitch
sound, DRL sees the band leaning all the way in with epic results. Where
Skeletonwitch previously ran its output through a Second Wave Black Metal filter,
DRL incorporates a strong atmospheric influence. Bergtatt-era Ulver and Cascadian
black metal influences are on full display. From ethereal intros to tremolo sky-ride
leads, DRL is draped with and adorned in black metal's lexicon. But the expansion of
influence does not stop there.

Nathan Garnette and Scott Hedrick are still co-captaining the dual-guitar
stratospheric charge but they've dramatically expanded their palette. Celestial
crunch that evokes post-metal pioneers, Isis? Check. Gothic doom passages à la
Paradise Lost? Check. High-flying Åkerfeldt-ian solos slingshotting over mountains of
undulating progressive rhythms? Check. The foundation for this sonic structure is the
effortless bass work of Evan Linger who possesses some of the strongest 4-string
chops of any player in heavy music. Providing requisite room for the guitar
maelstrom, Linger arrives with dazzling yet tasteful runs in just the right places.
And then there's vocalist Adam Clemans. Equal parts Tompa Lindberg fury and Jacob
Bannon punk rage, Clemans' creative intensity and sense of purpose fueled the
band's new musical trajectory. His organic writing lends the band gravitas and his
vocal performance is nothing short of heroic.

Like the previous full-length, this album, the band's first full-length in five years, was
recorded by Converge guitarist and engineering deity Kurt Ballou (High on Fire,
Kvelertak, Chelsea Wolfe) at GodCity Studio in Salem, Massachusetts. The band's
rapport with Ballou provided the familiarity necessary to embrace uncharted creative
territory. Melodeath genre architect Fredrik Nordström (Opeth, At the Gates) mixed
the album at Studio Fredman in Gothenburg, Sweden. The record was mastered by

Brad Boatright of metallic hardcore greats From Ashes Rise at Audiosiege Engineering
in Portland, Oregon.

SKELETONWITCH IN THE PRESS
"Sky-wide streaks of atmospheric black metal, neon electric leads, and folds of
compositional derring-do counter their primeval wallop, its blunt force whittled into
svelter forms."
- Pitchfork

"Skeletonwitch is having its Master of Puppets and At the Heart of Winter moments
simultaneously, and it is, if the band will forgive the superlative, absolutely
motherfucking divine[.]"
- Decibel Magazine

"[A]ny grief over the band that was has been swallowed up by a triumphant hellfire."
- The Onion

"If your dedication to heavy music ever begins to waver, clear 45 minutes from your
schedule to let this album restore your conviction."
- Metal Sucks

"This is a bold, new journey for the band."
- Metal Injection

"[Devouring Radiant Light] works well, and there are moments that absolutely shine
with brilliance."
- Exclaim!

"A flood of raw power, Devouring Radiant Light rivals anything that Skeletonwitch has
ever done."
- New Noise Magazine

"[O]ne of the boldest and most successful trajectory shifts a metal band has executed in
years."
- Angry Metal Guy

"[DRL] is a high mark for USBM, the band themselves, and certainly one of the top
albums of 2018 every fan should own."
- Ghostcult Magazine

PUBLICITY CONTACT
Bailey Sattler
baileys@grandstandhq.com
Soft Kill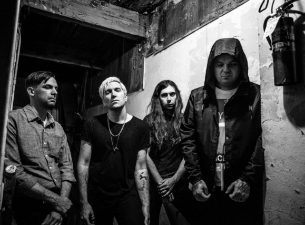 Wiegedood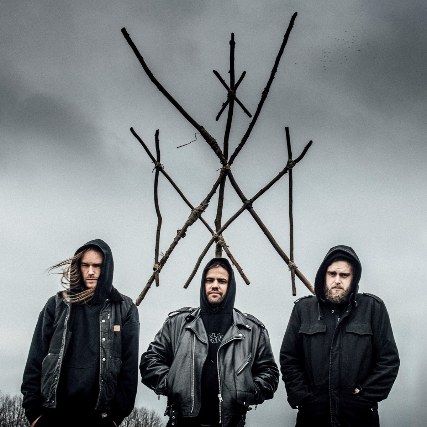 Portrayal of Guilt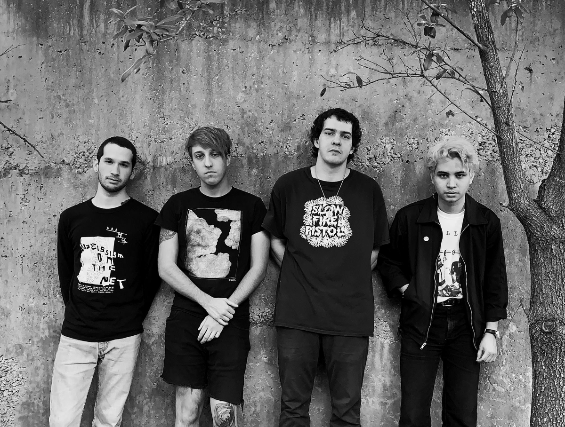 'Let Pain Be Your Guide' out now on Gilead Media & Holy Roar Records.