Brick by Brick presents
Aborted
with Cryptopsy, Benighted, Hideous Divinity
Mar, 31 @
7:30 pm
( Doors:

7:00 pm

)
Brick By Brick
Ages 21 and Up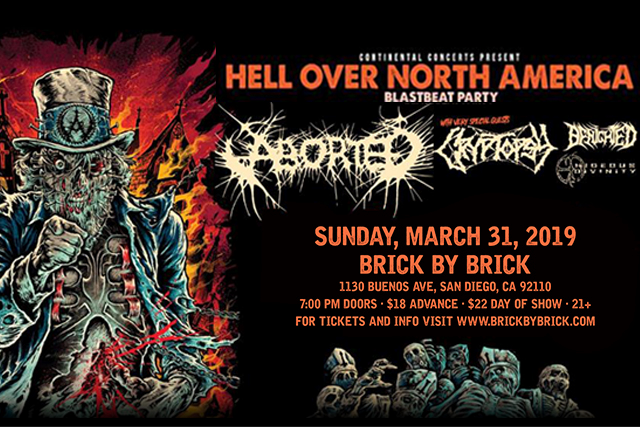 Additional Info
*Online sales end at 6PM day of show unless otherwise noted. For events sold out in advance, no additional tickets will be available at the door.
Artists
Aborted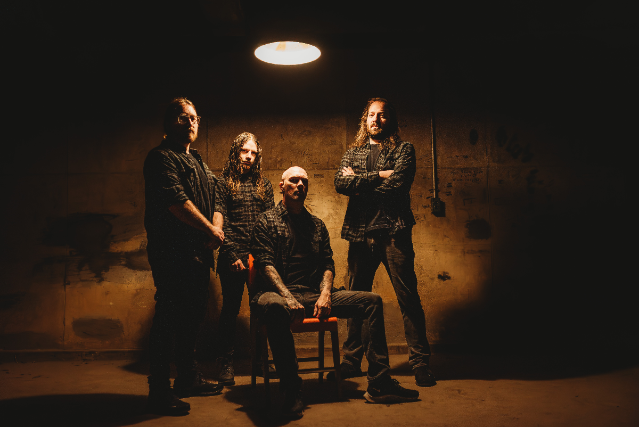 There are many ways to die but even more to kill as sonic mass murderers ABORTED elaborately explain since their forming back in 1995 and once again explicitly underline on their newest, eighth studio album "The Necrotic Manifesto". Founding member and vocalist Sven "Svencho" de Caluwé reveals that conceptually "the album is our own take on the sordid tales of the Necronomicon, the "book of the dead", of corpse drowned in a sauce of gore and fun covered with a good old 80's slasher vibe." This idea was congenially transformed into excellent artwork by Par Olofsson, who already created stunning visuals for acts like The Faceless, Exodus, Immolation, Pathology, Immortal and more.


Delicious gory fun aside, musically ABORTED mean dead serious death metal business since day one, delivering their aural blows with a maximum of versatility and hard-hitting brutality successfully melting the technical US school of Suffocation, Cannibal Corpse with the melodic incisions of European flavor obviously inspired by recently returned UK gods Carcass or even Entombed. ABORTED hack, slash, cut, grind, blast, groove, crush, rip, tear, destroy, kill in every way humanely possible and this multi-faceted approach has earned them a dedicated fanbase over the past years.

"The Necrotic Manifesto" – also produced by Jacob Hansen (who already worked with the band e.g. on 2003's "Goremageddon" and 2011's "Global Flatline") – makes no exception and continues in the tradition of its much acclaimed predecessor guaranteeing you maximum gore metal pleasure. Intensity – check, brutality – check, technicality – check, inhuman savage vocals – check, keyboards – nope, bittersweet melodies – hell no, folk elements – get outta here?!?! While remaining true to themselves,

ABORTED still have a couple of macabre surprises in store spicing their renowned and respected killing spree with some bonus-carnage: First up, are guest vocalists Vincent Benett (The Acacia Strain) on "Your Entitlement Means Nothing" and Phlegeton (Wormed) on "Excremental Veracity", sweet as rot cover versions of the incredible "Funeral Inception" (Suffocation) and "Arise" (Sepultura) as well as an entire card came (!) invented and designed by the band accompanying the album's limited edition as Svencho details: "The card game starts off with my humble self finding the "Necrotic Manifesto" at a truck stop while taking a dump on tour, reading out passages and unleashing hell on earth. Through the card game players take on the role of a band member or crew member and have to defeat the legions of hell with their maniacal leader: the doctor! All presented with a good dose of dark humor, horror and tons of internal jokes which will get players to know the members of the band a bit better and more personal."

Ready to shed blood and spread gallons of guts across the globe, the live Armageddon known as ABORTED will first tour the US with Kataklysm in April, followed by European release shows in May before selected mass executions during the upcoming festival season. So, better believe the self appointed "Gurgloroth" Sven de Caluwé when he says "get ready mankind, ABORTED is coming right at ya!"
Cryptopsy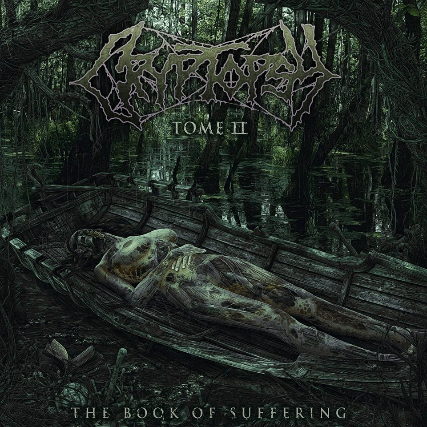 Cryptopsy is an influential extreme metal band from Montreal, Quebec, Canada. For over 20 years, they have sculpted and pushed the boundaries of their metal genre by releasing seven studio albums (Blasphemy Made Flesh, None So Vile, Whisper Supremacy, And Then You'll Beg, Once Was Not, The Unspoken King and CRYPTOPSY), a live album (None So Live), a best of (The Best of Us Bleed) and an two EPs (Ungentle Exhumation and The Book of Suffering – Tome I). After being on a record label for their entire career, Cryptopsy decided to go independent in 2012. Supported by their fans, Cryptopsy distributed and sold thousands of albums across the globe and had the opportunity to tour Japan, Western and Eastern Europe, the UK, South America, Scandinavia, Australia, New Zealand and Canada. Now in 2018, Cryptopsy will release the second instalment (Tome II) of their series of EPs entitled The Book of Suffering. The band has said that The Book of Suffering – Tome II is some of the most intense, gnarly, brutal yet organic material they have written to date.
Benighted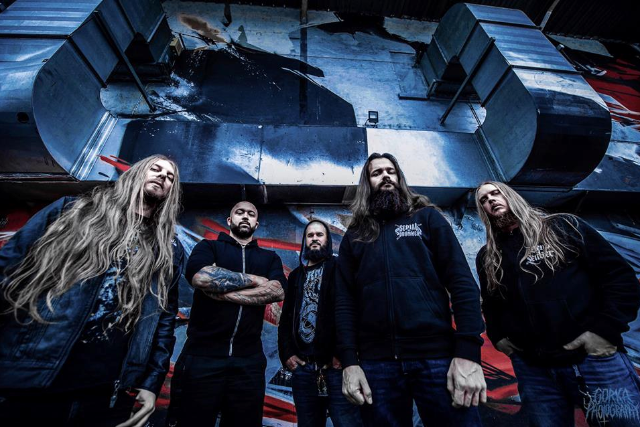 BENIGHTED deliver the radical soundtrack to these savage times. With their new full-length 'Necrobreed', the French sidestep the steadily growing complexity of their previous albums 'Asylum Cave' (2011) and 'Carnivore Sublime' (2014) by recalibrating their sound along their roots. 'Necrobreed' is the result of modern violence combined with an undercurrent of old school feeling. BENIGHTED keep their grinding influences but classic death metal clearly shows through the fabric. Those insane pig squeals are backed-up by massive growling. Crushing riffing and nuclear drumming meet subtle melodies and hidden hooks are fueling the fury. BENIGHTED were spawned by members from French Death and Black metal bands DISHUMANIZED, DARKNESS FIRE, and OSGILIATH, who joined forces in 1998 for a more brutal, heavy and modern way of expression. When their first self-produced and self-titled full-length hit the streets in 2000, it immediately had a strong impact. This turned a side-project into a main act. A fast-growing fan base was built by a string of acclaimed albums: 'Psychose' (2002), 'Insane Cephalic Production' (2004), 'Identisick' (2006), and 'Icon' (2007) were all enthusiastically received. On the live front, BENIGHTED quickly started to capture audiences with sweat driver performances that bulldozer any resistance mercilessly aside. This allowed the French to climb up the ladder fast and soon came invitations to all major European festivals including Neurotic Death Fest, Hellfest, Wacken, Brutal Assault, Summer Breeze, and Inferno Festival among many more. BENIGHTED recorded 'Necrobreed' once again in Germany's Kohlekeller Studio in continuation of a very successful relationship. The other constant with these brutal death addicts is an album concept that comes based on a theme revolving around the abysmal potential of the human psyche. This time vocalist (and caretaker in a mental asylum) Julien Truchan penned lyrics dealing with a man, who is stitching dead animals to his abdomen. On feeling the warmth of his infected flesh, the schizophrenic "gives birth" to the carcass and places it in his house as the result of a severe childhood trauma involving a dead cat. 'Necrobreed' gives an extreme musical voice to the madness lurking within. Let your mind be shaken by BENIGHTED. In case of side effects, please see a doctor.
Hideous Divinity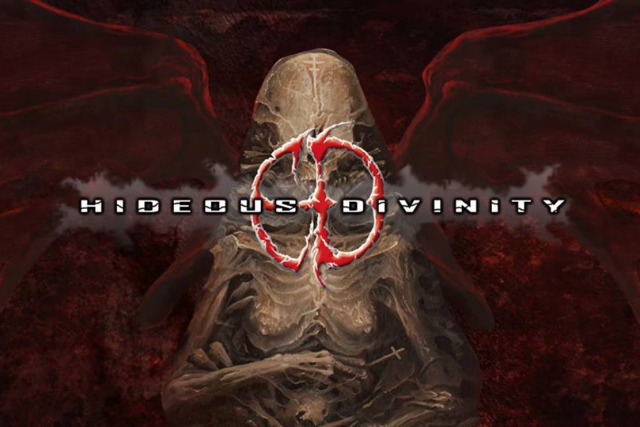 Death metal from Rome, Italy.