Brick by Brick presents
My Life with the Thrill Kill Kult
with Curse Mackey
Jun, 15 @
8:30 pm
( Doors:

8:00 pm

)
Brick By Brick
Ages 21 and Up
Additional Info
*Online sales end at 6PM day of show unless otherwise noted. For events sold out in advance, no additional tickets will be available at the door.
Artists
My Life with the Thrill Kill Kult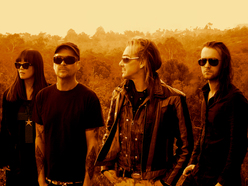 Originally formed in 1987 by Buzz McCoy(who had recently relocated from Boston) and Groovie Mann, the duo sought to create a worthy musical accompaniment that could be used as a soundtrack to trashy B-movies. The duo's initial project was to make a movie (in the style of Russ Meyer and John Waters) to be named "My Life with the Thrill Kill Kult." The movie never got off the ground, but McCoy and Mann used the aborted movie's title for the name of their just-formed group, as their over-the-top stage show was best described as "sensory overload". Signing on with Chicago's renowned industrial dance label Wax Trax!, the Thrill Kill Kult issued several releases between 1989 and 1991: a self-titled EP, plus the full-lengths I See Good Spirits and I See Bad Spirits, Kooler Than Jesus, Confessions of a Knife, and Sexplosion! By this time, the group had attracted the attention of Interscope Records, which signed up the Thrill Kill Kult and reissued Sexplosion!, which had spawned perhaps the group's best-known song, "Sex on Wheelz" (the track would also be featured in director Ralph Bakshi's animated movie Cool World. In 2004 the Ryko label acquired most of Wax Trax!'s releases, including early albums from the Kult. That same year they reissued the band's first three albums and released a new compilation, The Best of TKK, along with a set of remixes named Diamonds & Daggerz. In 2010 they introduced their own label Sleazbox with the album Death Threat plus the remix/re-recordings collection Sinister Whisperz: The Wax Trax Years. In addition to their own releases, My Life With the Thrill Kill Kult has contributed tracks to several movie soundtracks, including Paul Verhoeven's Showgirls, Greg Araki's Nowhere, and the hit flick The Crow (in the latter of which the group made a cameo appearance); and over the years, has toured with such renowned (and similarly styled) bands as Siouxie and the Banshees, Lords of Acid, EMF, and Marilyn Manson.
Curse Mackey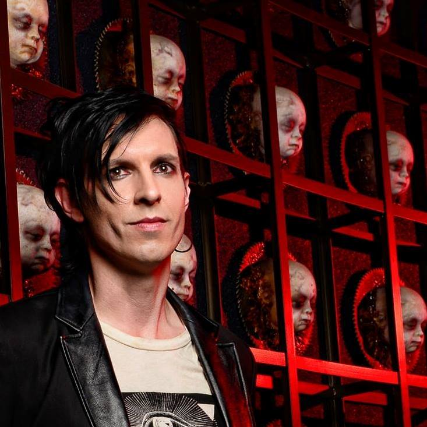 Austin, Texas based artist Curse Mackey is best known as lead singer of industrial supergroup PIGFACE and notorious Texas Tribal-industrial legends EVIL MOTHERS and as a periodic member of My Life with the Thrill Kill Kult. Mackey has now launched a solo electronic-industrial project that includes new material and revamps of classic Pigface and Evil Mothers songs (including Spider Sex and Car Wrecks). Curse's sound is a future forward homage to the experimental side of industrial music, with doom fueled drones, sinister synth pulsations and dirty-minded beats layered upon hypnotic noise manipulations, scream of conscious lyrical prose and near trance inducing improvisations that evoke the ghosts of Throbbing Gristle, early Skinny Puppy, Lustmord, Coil, and the iconic projects Mackey has been a part of. In addition to his live projects, Curse is a notable DJ on the darkwave, indie dance, industrial circuit. He DJs all vinyl sets as well as hardware/digital sets and endorses @PioneerUSA DJ gear and Alienware computer systems. Mackey is also very active as an event producer/promoter and art curator with two published books "DRAW" and "RIDES OF PASSAGE".