Brick by Brick presents
John 5
with Nita Strauss, Jared James Nichols, Dead Girls Academy
Apr, 14 @
7:15 pm
( Doors:

6:30 pm

)
Brick By Brick
Ages 21 and Up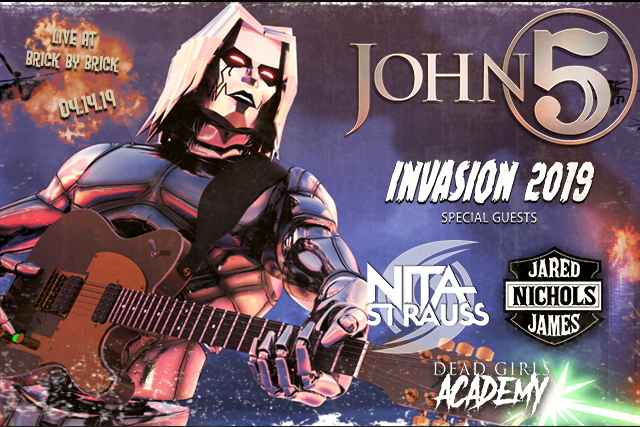 Additional Info
*Online sales end at 6PM day of show unless otherwise noted. For events sold out in advance, no additional tickets will be available at the door.
Artists
John 5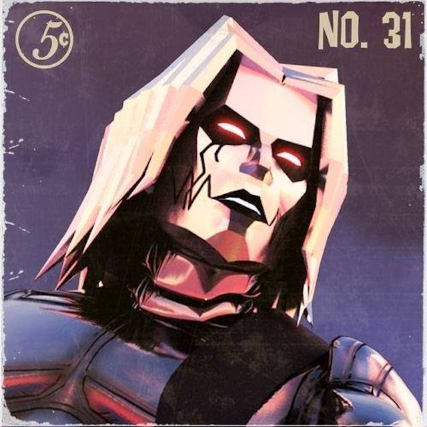 How does one define John 5? Is he rock? Is it country? Is he heavy metal? What about emo, industrial or bluegrass? Truth is there is no one set genre to fit John 5. In a world where music must be defined, John 5 breaks every mould by continually changing and adapting his style. Although he is unmistakably John 5 in his sound, he mixes around with the foundation with every new track he writes, every album he guests on and every time he picks up the guitar.
Nita Strauss
Los Angeles born guitarist Nita Strauss has become a force to be reckoned with in the music world, dazzling audiences across the US, UK, Europe, Asia and Africa, and sharing the stage with a diverse range of artists including legendary R&B star Jermaine Jackson, deathcore heavy hitters As Blood Runs Black, early MTV darlings Femme Fatale, video game supergroup Critical Hit and popular tribute band The Iron Maidens. Her skill, exuberant stage presence and love for all things about her instrument have earned her a stellar reputation and endorsements from many top companies. Nita has been featured in many worldwide print ads and on dozens of albums, trailers, and soundtracks, most recently Heroes Of The Storm (Blizzard) and Grammy-nominated Metal Gear Rising: Revengeance (Konami/ Platinum Games), and is the author of the Premier Guitar column "Drop Dead Shred". She was ranked #1 of Guitar World's "10 Female Guitar Players You Should Know", and has been featured in Revolver Magazine's annual "Hottest Chicks in Hard Rock" issue and calendar for the last 2 years. She is currently on tour with Alice Cooper.
Jared James Nichols
You can't teach the blues. It's not something that can be codified in music books or learned on YouTube. It goes much deeper than that and it comes from the inside. It's about the way the guitar strings are bent and the sound gets transmuted directly from a player's soul. It's simple at the end of the day. Either you've got it, or you don't. JARED JAMES NICHOLS has definitely got it. The Wisconsin-born, Los Angeles-based singer, writer and guitarist's new EP Old Glory & The Wild Revival channels blues grit and gusto through bombastic arena-size rock 'n' roll. It's raw, raucous and righteously real. As soon as he got his first guitar at 14-years-old, the stage immediately called to Jared. Maybe it had something to do with the fact that he grew up minutes away from The Alpine Valley Resort—where Stevie Ray Vaughan performed his last show. However, no divine coincidence could truly foreshadow just how adept at the six-string he would eventually become. He personally traces the beginning of his story back to a blues jam that his mother brought him to. "Two weeks after I got an electric guitar, I was on stage with all of these old cats from Chicago playing the blues," he recalls with a smile. "The music immediately resonated with me. It was all about the feeling and the soul behind it. None of these guys were music nerds. They were true blues guys playing what they felt. That power and reality struck a chord in me." Soon, he found himself practicing for twelve hours every day. Hitting up the local jams, he ended up sharing the stage with legends including Buddy Guy, "Honeyboy" Edwards, and "Big Jim" Johnson as well as opening for Kenny Wayne Shepherd and Derek Trucks. By his 21st birthday, he had logged over 500 gigs. After a short stint at Berklee School of Music in Boston, he headed out to Los Angeles where he garnered numerous accolades at the world-renowned Musicians Institute, winning the 2010 Jerry Horton guitar contest, the 2011 Les Paul tribute contest, and the 2011 "Outstanding Guitarist" award. 2012 saw him release his debut EP, Live at the Viper Room, gaining the notice of both Guitar World and Guitar Player and inking a deal with Sony/MTV's Hype Music Publishing. However, everything simply laid the groundwork for Old Glory & The Wild Revival. Teaming up with Aerosmith engineer Warren Huart, Jared began working on the five-song set in early 2013. Honing his voice as a guitarist, songs like the first single "Let It Go" speak through a delta-style soul with the right amount of rock bravado. "That one is a blues rock song about love and give and take," he reveals. "It's got its own style and it opens the door to what I'm doing". Elsewhere on the EP, "Blackfoot" charges forward with a riff as sharp as a tomahawk and a whole lot of spirit punctuated by Jessica Childress of The Voice's backing harmonies. "In Wisconsin, I was surrounded by Indian reservations and culture," he continues. "I'd do casino and reservation tours as a kid. When I wrote the song, I was reading about all of these badass tribes. I love that spirit and vibe inherent in Native American culture. The Blackfoot were truly bad motherfuckers. That lick is what I feel their culture represented." On stage, it truly comes to life. Jared's presence becomes amplified with guitar in hand. Audiences have experienced that everywhere from his performances at NAMM and SXSW to the iconic Sturgis Buffalo Chip Festival where he will play alongside ZZ Top and Kid Rock and the Harley-Davidson 110th Anniversary in Milwaukee this summer. Ultimately, he lives up to that idea of Revival in the EP's title. "I want people to get excited," he concludes. "I want them to feel like anything is possible in this music. I want them to know great blues rock exists. If I can give someone the same inspiration I was blessed with, I've done something right."
Dead Girls Academy