Brick by Brick presents
Solar Fake
with
Mar, 30 @
8:00 pm
( Doors:

7:30 pm

)
Brick By Brick
Ages 21 and Up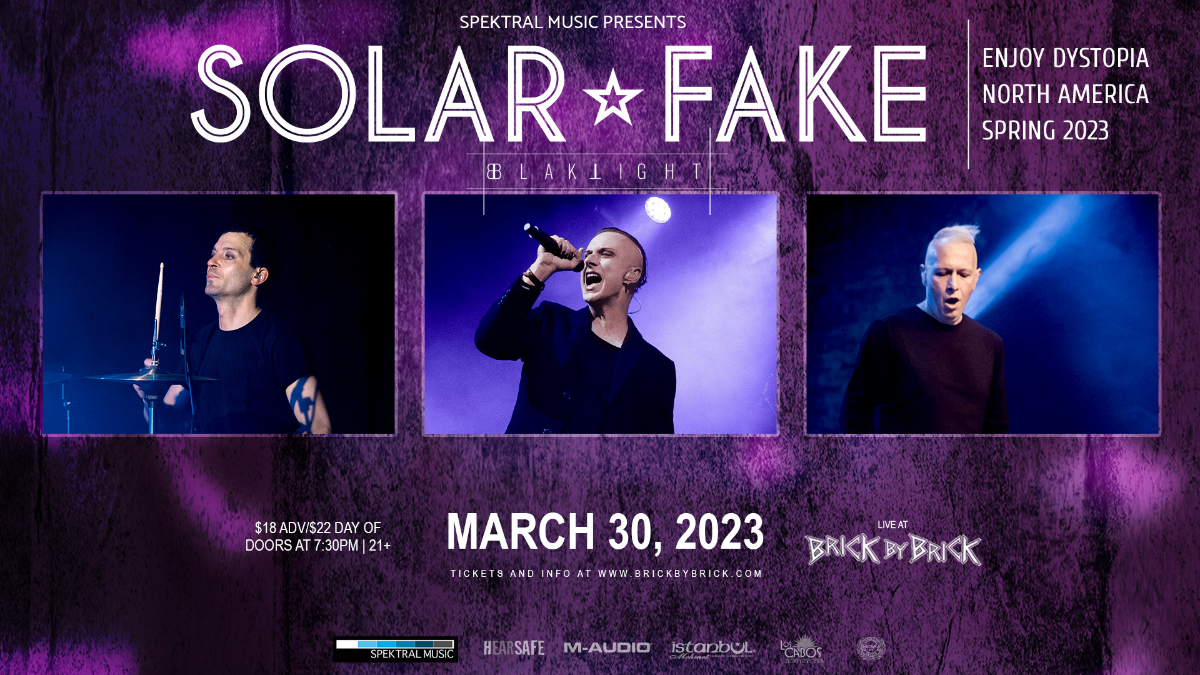 Additional Info
All shows at Brick by Brick are 21+, no exceptions. Online sales end 30-minutes before doors unless otherwise noted. All ticket sales are final—no refunds or credits. Tickets cannot be replaced if lost, stolen, or damaged.

Proof of vaccination is not required for this event.
Artists
Solar Fake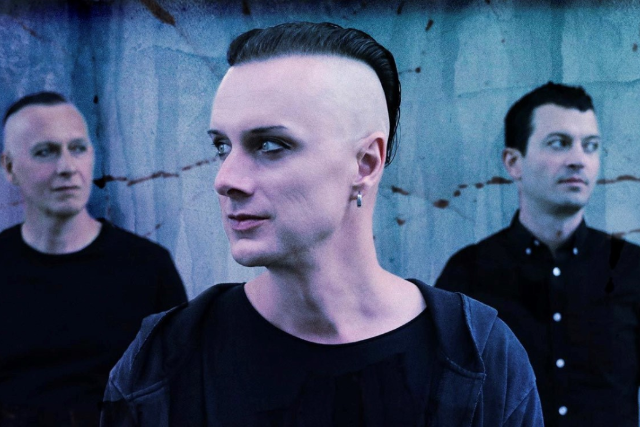 Solar Fake is the electro-act of multi-instrumentalist and vocalist Sven Friedrich, also known for his other projects Zeraphine and Dreadful Shadows. The first songs were written in 2006, and in 2007 Sven formed Solar Fake, asking Frank to join as live keyboardist. In 2008, they released their debut album "Broken Grid" on the label Synthetic Symphony / SPV. Several concerts and festival performances followed (e.g. Blackfield Festival) and in 2009, the band supported VNV Nation on their "Of Faith, Power and Glory" tour through Germany and Europe.

In December 2009, the band released along with their performance at neuwerk Festival the strictly limited "Resigned" EP which includes besides the title track several cover versions and a :Wumpscut: remix. This EP was only available at Solar Fake live shows and therefore it was sold out very soon.

In 2011, the release of Solar Fake`s second album "Frontiers" took place and the band started to hit the dancefloors. This album was placed for the maximum number of eight weeks in the German Alternative Charts (DAC). The band performed on several festivals (e.g. Amphi Festival, E-Tropolis), most of their headlining shows were sold-out and several support tours followed, e.g. with VNV Nation in the UK, Project Pitchfork, Covenant and Peter Heppner.

In October 2013, the band's third album "Reasons to Kill" was released and entered the official German album charts. This album was placed again all possible eight weeks in the top ten's upper half of German Alternative Charts (DAC).
In November 2013, Solar Fake played in Tel Aviv for the first time, in December performances in Madrid and Barcelona followed as well as the Darkstorm Festival. In January 2014, their headliner tour named after the album "Reasons to Kill" started and led through Germany, Russia and Switzerland.

In the first half of the year 2014, the live line-up changed. First, André Feller (former guitarist of Dreadful Shadows) joined Solar Fake to stay in for Frank who had fallen ill. Soon, Sven asked him to stay as second keyboardist and for a short period, the band performed live as a trio. Only a few weeks later, Frank announced his exit.

In summer 2014, Solar Fake performed at several festivals, e.g. Amphi Festival, M´era Luna Festival or Orus Fest in Mexico City.

As part of the Amphi Festival's exclusive final party "CALL THE SHIP 2 NIGHT" on board of "MS RheinFantasie", Solar Fake performed their first acoustic show "One Step Closer" with a set especially arranged for vocals, piano, synths and acoustic guitar. Dirk Riegner played the piano and Solar Fake could welcome in Peter Heppner a very special guest performing with Sven a special version of "Die Flut".

In March 2015, Solar Fake appeared as special guest during Camouflage's "Greyscale" tour in Germany and played at several festivals like E-Only Festival, E-Tropolis Festival, Blackfield Festival and Nocturnal Culture Night. During the whole year, Sven worked hard on the material for the upcoming album.

In 2015, the band signed a new contract with the Berlin-based record label "OUT OF LINE". On September 25, the single "All the things you say" (limited to 777 copies) as well as the associated videoclip was released. The single was sold out a few days after the release, only a small number of remainders can be found in some shops. On October 30, the fourth album "Another Manic Episode" was released. For the first time, a Solar Fake album is available in several versions, e.g. as a box set, a 2CD deluxe version and even on Vinyl. The deluxe version's second CD offers two cover versions and many remixes, for example by Project Pitchfork, Aesthetic Perfection, Desireless and Operation of the sun and many more. On the same day, the band played a sold-out release show in Berlin at Frannz Club with Peter Spilles (Project Pitchfork) having a guest appearance, performing with Sven the Project Pitchfork-hit "The Dividing Line". The album "Another Manic Episode" hit rank 31 of the offical German album charts (billboard).

The by now most successful headliner tour "Manic Episodes Tour" took place in February 2016 in Germany. Most shows were sold out. After that the band played at several festivals, like Wave-Gotik-Treffen and Amphi Festival. More shows are still to come in 2016, e.g. in Helsinki, Moscow, St. Petersburg, Bremen and Vienna. And Solar Fake will participate in November 2016 in "Gothic Meets Klassik", where their songs will be performed by the orchestra of Zielna Gora at Gewandhaus Leipzig.

In January and February 2017, Solar Fake went on an extended US tour over 6 weeks together with Aesthetic Perfection and Nyxx, and immediately after their return home the "Sedated Live Acoustic" tour at selected locations in Germany started, during which Sven and André were supported by Dirk Riegner (piano), Rico Schwibs (violin), Benni Cellini (cello) and Norman Selbig (acoustic guitar).

After its completion several concerts followed, including E-tropolis Festival, Kasematten Festival, 2x Festung Koenigstein, together with Project Pitchfork, M'era Luna Festival, "Eine Nacht im Bergwerk" (One Night in the Mine) in Switzerland, and together with VNV Nation in Madrid and Barcelona.

On December 8, the live double album "Sedated Live Acoustic" was released, a concert recording of the Hamburg show, including an additional bonus DVD.

On December 25 at Darkstorm Festival in Chemnitz, Solar Fake, for the first time, performed together with a live drummer: Jeans. As both band and fans were enthusiastic about the outcome, it was decided to have Jeans as an integral part during live performances. However, for the time being Sven and André will continue to perform alone at some gigs abroad due to financial reasons.

Although the work on the new album had already started, Solar Fake performed a lot of concerts in 2018, including gigs in Copenhagen, Gothenburg, Athens, and Mexico City, and took part in amazing festivals such as Plage Noire, Out Of Line Weekender, Amphi Festival, and Autumn Moon Festival.

On 31 August 2018, the fifth studio album was released, "You win. Who cares?", which represents a musical continuation of "Another Manic Episode" showing that Sven is by no means content to make pleasant bar music but is still able put an enormous amount of rage and emotion into his music and lyrics without ever losing sight of the sound of the times. "YWWC" is contemporary, sometimes extremely aggressive, sometimes inconceivably sad and gloomy, and gives an insight into the deepest abysses of Sven's universe of emotions.