Brick by Brick presents
Batushka
with Hate, Hideous Divinity
Oct, 6 @
7:30 pm
( Doors:

7:00 pm

)
Brick By Brick
Ages 21 and Up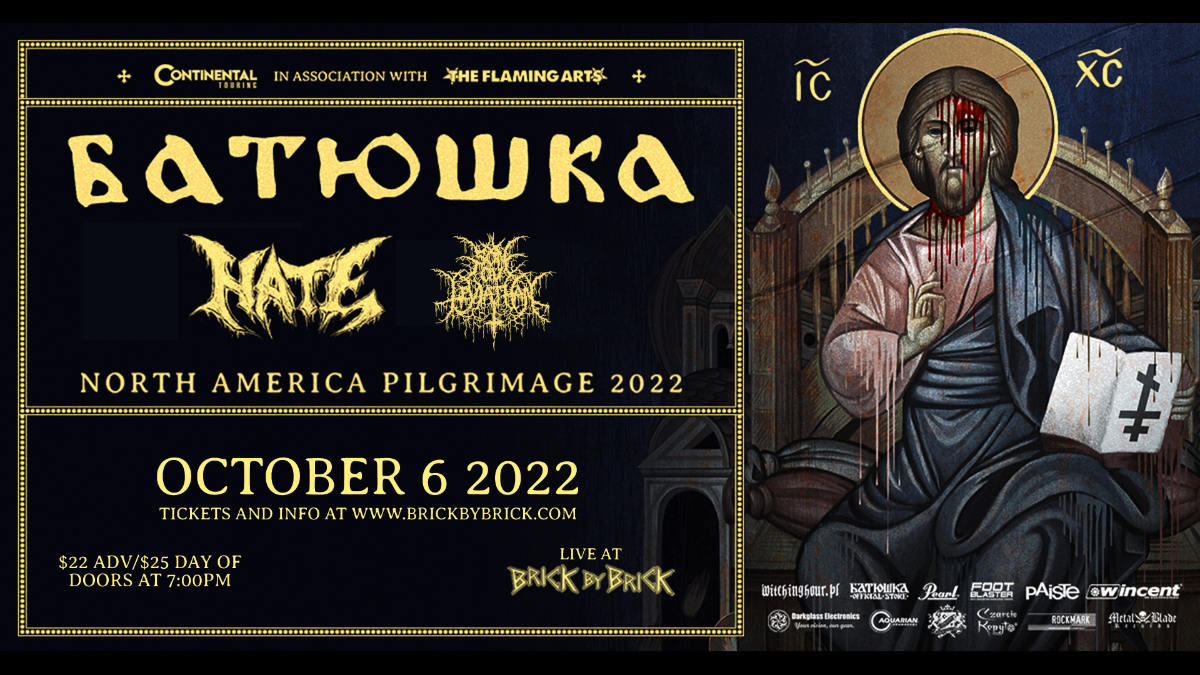 Additional Info
All shows at Brick by Brick are 21+, no exceptions. Online sales end 30-minutes before doors unless otherwise noted. All ticket sales are final—no refunds or credits. Tickets cannot be replaced if lost, stolen, or damaged.

Proof of vaccination is not required for this event.
Artists
Batushka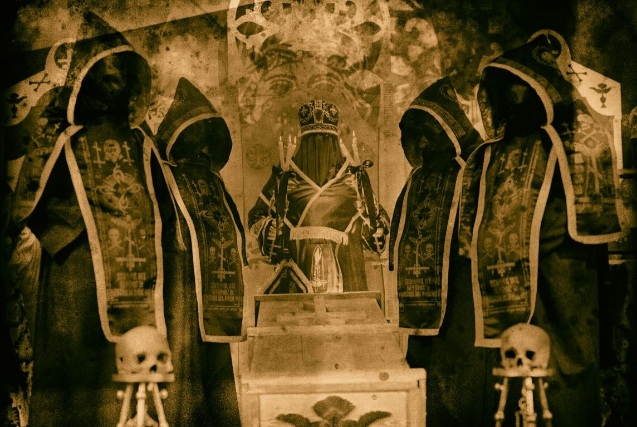 As civilisation continues to eat itself, heavy music's dark spiritual quest has never seemed more vital. Emerging from the shadows of eastern Poland back in 2015, Batushka have already established themselves as one of the modern era's most powerful and evocative bands. Harnessing the fire and fury of arcane black metal and channelling it through the reverberant grandeur of ancient rituals of worship, the band's debut album Litourgiya stood apart from the extreme metal hordes: a monument to originality, depth and dark mysticism that swiftly cast its spell over the metal underground and beyond.

As Batushka took their music to the people, its power seemed to multiply tenfold, forging a profound connection with an increasingly rabid international fan base. As a result, the band's imminent return in 2019, with their second and most devastating ritual to date, is set to be an event of undeniable significance.

"The last few years were a very intense and busy period for us," the band's nameless spokesperson states. "We've played a lot of shows around the world. We received a huge amount of support from the audience in return. And I guess we, as a band, have also matured. It was a great time to gain experience and to gather some of the inspirations that shaped us and who we are today."

More than four years on from Litourgiya's extraordinary opening statement, the second Batushka album is destined to be 2019's most transformative metal release. Named after an Old Church Slavonic word for God, Hospodi enhances all the unique qualities that made the band such an instant phenomenon, while offering an entirely distinct and fresh sensory experience, replete with the most ferocious and bewitching songs the Poles have penned to date and a newfound sense of rock swagger.

"We didn't want to copy the first record nor its sound. Litourgiya was unique and we decided to leave it that way. As for our sophomore release, we decided to record it the old-fashioned way, with analogue and 'live' sound, without any digital interferences or boosters. I would say that the new album has a more rock vibe than the first one. It has melodies, of course, but it's also a furious black metal record. We were inspired by the Orthodox music, the so called 'white singing' and also some old Byzantine sounds that are really present on this record. As far as guitars go, there are a lot of classic rock influences and some early 90's metal in there, too."

Fiercely conceived and audaciously executed, Hospodi takes the epoch-shattering essence of Batushka's debut to a new level of idiosyncratic intensity. From the mesmerising chants of the opening Wozglas to the blazing bombast of Dziewiatyj Czas and the pulsing, dark rock melodrama of Wieczernia, this is an album full of wildly dynamic, divergent moments, wherein the band's otherworodly, inspirational fervour meets the whip-crack precision of 21st century brutality. Perhaps most importantly, Batushka's deft conjuring of religion's synaptic shock 'n' awe looms large over every scything riff and bellicose scream. By the time fans reach the overpowering climax of the closing Liturgiya, a true Damascene conversion is practically guaranteed.

"The whole album is a concept based on the Liturgy of Death, the prayers for the dead, and Orthodox funeral rites and dirges. It's all about a ritual that involves the dead and the mourners. We also used a lot of old folk songs and elegies from our homeland. These are sung during the wake, around the casket, in the deceased person's home. Nowadays only few older people know them and still sing them accordingly in our region. We decided to cherish that tradition and I'm glad that with our album these songs and rites will survive."

Poised to deliver their second monumental liturgy to the unknowable and unseen, Batushka are the perfect antidote to modern music's vapid superficiality. As Hospodi exerts its enigmatic allure, the only sane response is to surrender and succumb. Let the ritual begin!

"Our new live shows will be based on the concept of the new album," the band conclude. "You will experience the Liturgy of Death, a funeral rite, crude, sad and bitter! Beyond that, our great hope is to do what we love doing and to continue to share this with the people we can rely on."

Hate
Hideous Divinity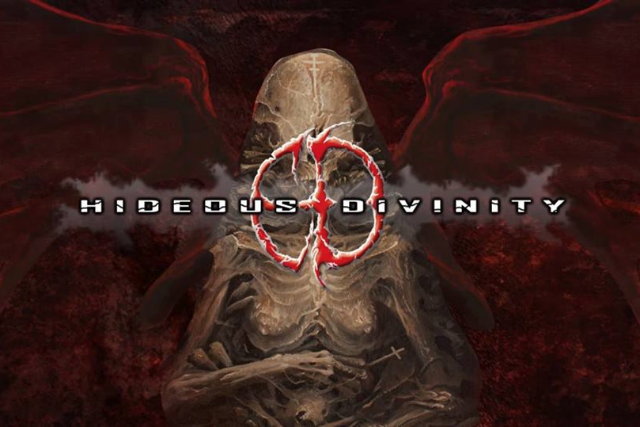 HIDEOUS DIVINITY's music starts taking form in January 2007 between Oslo (Enrico, former founding member of HOUR OF PENANCE now living in Norway) and Rome (Synder & Mauro, both members and ex-members of HOUR OF PENANCE and EYECONOCLAST). The aim is to come out with some real, straight-in-your-face unholy death metal: in other words, the only music in the world that deserves to be played.

The two songs featuring the "Sinful Star Necrolatry" were written and arranged by Enrico during 2007 and finally recorded by Enrico, Synder and Mauro in September, 2007 at the 16th Cellar Studios by the sound-engineer and long-time friend Stefano "Saul" Morabito (who also took care of the mixing).

After a long period of silence due to Enrico's relocation in Italy in early 2009 and his subsequent rejoining with HOUR OF PENANCE (from which he will part ways again in fall 2009), the band is finally back on tracks with a new lineup featuring master vocalist Enrico H., Flavio and Fabio respectively shredding bass and guitar, while "Mad Horse" Mizio takes care of keeping tornado beats.

A new song, "Cerebral Code Of Obeisance", sublimates the regained state of health of HIDEOUS DIVINITY that gains a multi albums deal with UNIQUE LEADER and a partecipation to INFERNO FESTIVAL 2011 in Oslo, ready to release their first full-length of their career in spring 2012.

"Obeisance Rising", a concept album based on John Carpenter's masterstroke "They Live" is out, great reviews worldwide, the band parts ways with Flavio, Mizio and Fabio. Giulio Galati on drums, Stefano Franceschini on bass and Antonio Poletti on guitar join what becomes the best HIDEOUS DIVINITY's lineup ever. Get ready to be torn to shred!