Brick by Brick presents
Anvil
with White Wizzard, Midnite Hellion, Killing Tyranny
Jul, 2 @
7:30 pm
( Doors:

7:00 pm

)
Brick By Brick
Ages 21 and Up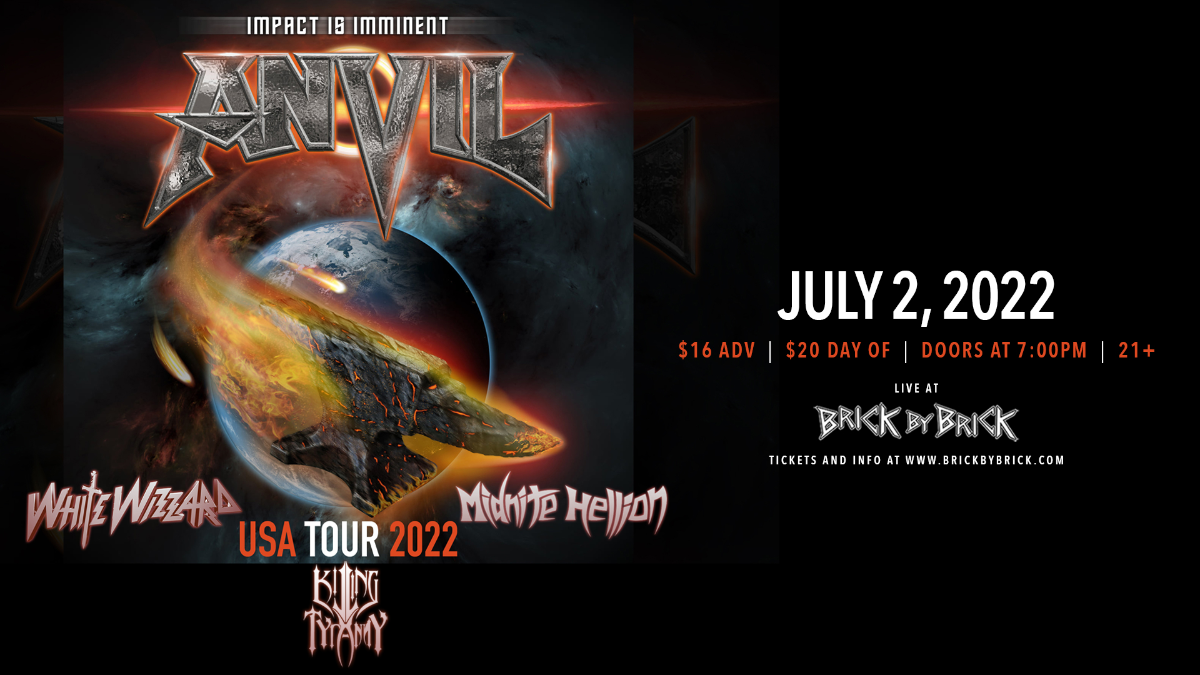 Additional Info
All shows at Brick by Brick are 21+, no exceptions. Online sales end 30-minutes before doors unless otherwise noted. All ticket sales are final––no refunds or credits. Tickets cannot be replaced if lost, stolen, or damaged.

Proof of vaccination is not required for this event.
Artists
Anvil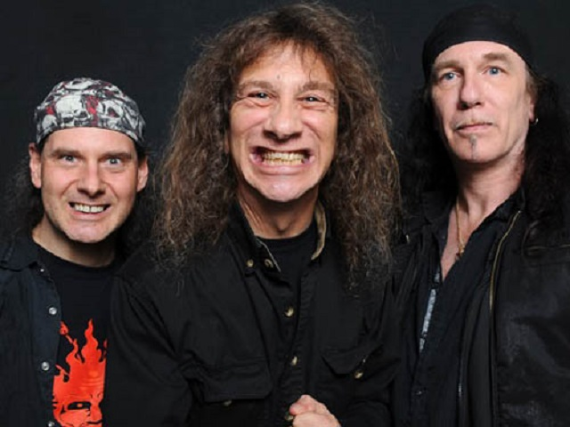 Their 2009 movie documentary The Story Of Anvil has made them famous the world over, following seemingly endless years of energy-sapping tours de force marked by dismal organisational conditions. Their albums are considered as landmarks among a musical genre which is otherwise successively losing its identity. Their most recent release, Juggernaut Of Justice (2011), was a powerful and unrelenting thunderbolt of the first order. Now Canadian cult metal act Anvil are back with their new studio recording Hope In Hell. The album presents guitarist/vocalist Steve 'Lips' Kudlow, drummer Robb Reiner and their new bassist Sal Italiano in top form, highly dynamic and full of energy from the first to the last note. "We're really proud and already love the new album just as much as our early releases from the beginning of the eighties, because Hope In Hell sounds like Anvil live on stage: natural, honest, unvarnished, never over-produced and straight from the heart."
Which is hardly surprising since Hope In Hell was written and recorded following an 18-month world tour which took Anvil around the globe. "We hadn't expected this kind of extensive tour when we brought out Juggernaut Of Justice," Kudlow confesses. "Time just flew by. I could hardly believe it when I found myself in the studio again after the tour, ready to work on the next album. The reactions to Juggernaut Of Justice and the shows had been so positive that we had plenty of ideas and inspiration for new material."
Kudlow is referring to typical Anvil tracks such as 'Hope In Hell', which the Anvil guitarist considers a logical continuation of legendary numbers like 'Forged In Fire', 'Metal On Metal' and 'Plenty Of Power'. He also mentions 'Eat Your Words', according to Kudlow a "hybrid between 'Jackhammer' and '666', in other words pure Anvil, like in our early days." Pretty much the same applies to haunting new tracks like 'The Fight Is Never Won' and 'Call Of Duty', which present Anvil true to form. But there are also a number of real surprises on Hope In Hell: "A song like 'Badass Rock'n'Roll' with its rock'n'roll groove surprised even me", Kudlow admits. "It shows our great respect for bands like AC/DC and Motörhead. I'm sure that all Anvil fans will love this song because it's the best we've done in this direction." 'Mankind Machine' sees Kudlow & Co. break new ground: never before has this band sounded so mechanical (like the title suggests). And never before has it sounded as oriented to the classic rock feel of the seventies as in ´Time Shows No Mercy´.
So Anvil are proud to present the kind of album that Anvil fans will love: no concessions to short-lived trends, no modern frills but traditional metal with lots of classic rock music elements. "What we do is totally timeless," says Anvil's frontman. "We've never tried to change our sound or experiment with trends and fashions. We live in our own world and have maintained our individuality and own identity." Like Juggernaut Of Justice, Hope In Hell was produced by Bob Marlette (Black Sabbath, Airbourne, Alice Cooper) at the NRG Recording studios in North Hollywood, California, and brilliantly mastered by Maor Appelbaum (Malmsteen, Sepultura). These are the first cuts featuring Anvil's new bassist Sal Italiano, who joined the band a year ago. "We're really happy with Sal, his style is powerful and amazingly imaginative. It's a little as if we'd enlisted Steve Harris," enthuses Steve 'Lips' Kudlow, who composed the whole album together with drums legend Robb Reiner.
Hope In Hell will be available in four different formats: as a limited-edition Digipak including bonus material, as a jewel case CD, vinyl LP and as download. "The album's flair reminds me of the beginnings of classic heavy metal in the most positive sense of the term," says Kudlow. "I grew up in the seventies, and I still like what I listened to back then. You can always rely on Anvil, we don't write our music for the radio and we don't want to break any records. Some media criticise our uncompromising attitude, but we're proud of never having betrayed our ideals and having remained faithful to our roots."
White Wizzard
Midnite Hellion
Killing Tyranny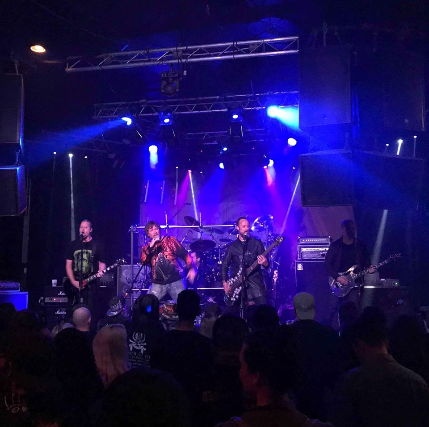 Killing Tyranny is a heavy metal assault on your auditory and cognitive systems.