Brick by Brick presents
Napalm Death
with Aborted, Tombs, WVRM
May, 15 @
7:30 pm
( Doors:

7:00 pm

)
Brick By Brick
Ages 21 and Up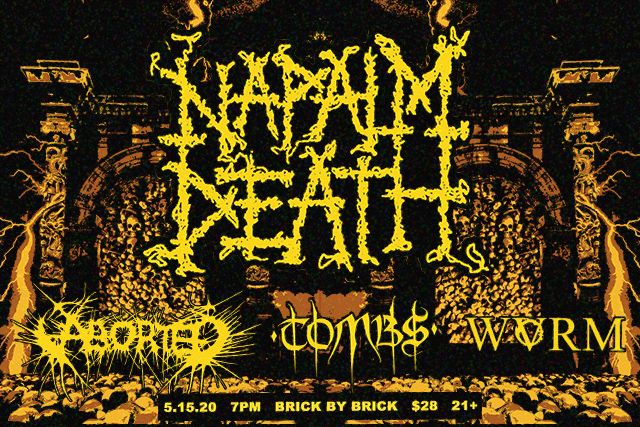 Additional Info
*Online sales end at 6PM day of show unless otherwise noted. For events sold out in advance, no additional tickets will be available at the door.
Artists
Napalm Death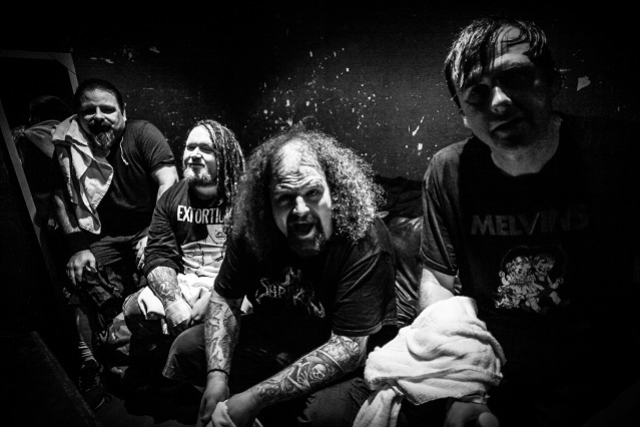 Aborted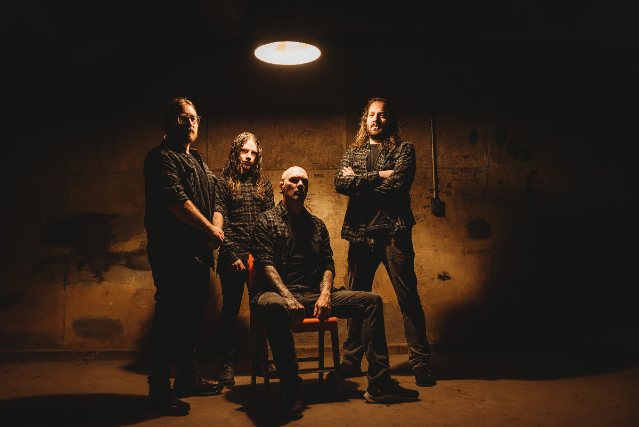 There are many ways to die but even more to kill as sonic mass murderers ABORTED elaborately explain since their forming back in 1995 and once again explicitly underline on their newest, eighth studio album "The Necrotic Manifesto". Founding member and vocalist Sven "Svencho" de Caluwé reveals that conceptually "the album is our own take on the sordid tales of the Necronomicon, the "book of the dead", of corpse drowned in a sauce of gore and fun covered with a good old 80's slasher vibe." This idea was congenially transformed into excellent artwork by Par Olofsson, who already created stunning visuals for acts like The Faceless, Exodus, Immolation, Pathology, Immortal and more.


Delicious gory fun aside, musically ABORTED mean dead serious death metal business since day one, delivering their aural blows with a maximum of versatility and hard-hitting brutality successfully melting the technical US school of Suffocation, Cannibal Corpse with the melodic incisions of European flavor obviously inspired by recently returned UK gods Carcass or even Entombed. ABORTED hack, slash, cut, grind, blast, groove, crush, rip, tear, destroy, kill in every way humanely possible and this multi-faceted approach has earned them a dedicated fanbase over the past years.

"The Necrotic Manifesto" – also produced by Jacob Hansen (who already worked with the band e.g. on 2003's "Goremageddon" and 2011's "Global Flatline") – makes no exception and continues in the tradition of its much acclaimed predecessor guaranteeing you maximum gore metal pleasure. Intensity – check, brutality – check, technicality – check, inhuman savage vocals – check, keyboards – nope, bittersweet melodies – hell no, folk elements – get outta here?!?! While remaining true to themselves,

ABORTED still have a couple of macabre surprises in store spicing their renowned and respected killing spree with some bonus-carnage: First up, are guest vocalists Vincent Benett (The Acacia Strain) on "Your Entitlement Means Nothing" and Phlegeton (Wormed) on "Excremental Veracity", sweet as rot cover versions of the incredible "Funeral Inception" (Suffocation) and "Arise" (Sepultura) as well as an entire card came (!) invented and designed by the band accompanying the album's limited edition as Svencho details: "The card game starts off with my humble self finding the "Necrotic Manifesto" at a truck stop while taking a dump on tour, reading out passages and unleashing hell on earth. Through the card game players take on the role of a band member or crew member and have to defeat the legions of hell with their maniacal leader: the doctor! All presented with a good dose of dark humor, horror and tons of internal jokes which will get players to know the members of the band a bit better and more personal."

Ready to shed blood and spread gallons of guts across the globe, the live Armageddon known as ABORTED will first tour the US with Kataklysm in April, followed by European release shows in May before selected mass executions during the upcoming festival season. So, better believe the self appointed "Gurgloroth" Sven de Caluwé when he says "get ready mankind, ABORTED is coming right at ya!"
Tombs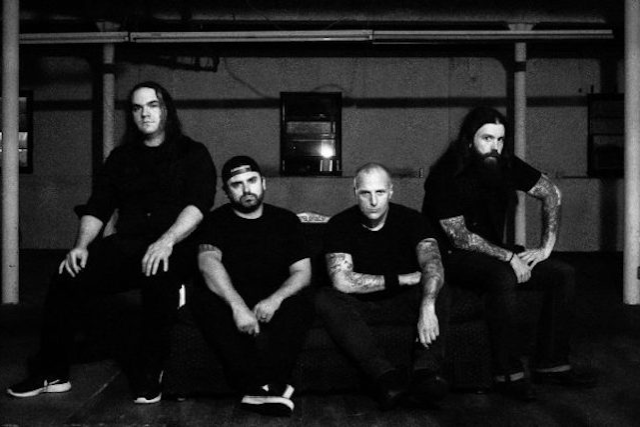 ​Formed in 2007 as a collaboration between Mike Hill (Anodyne), Dominic Seita (Speedloader), and Justin Ennis (the Heuristic), Brooklyn, New York-based, experimental metal outfit Tombs blends bleak, post-rock minimalism with the ferocious attack of sludge and classic black metal. The group's dark proto-industrial sounds were first put to wax that year in the form of a two-song EP simply entitled Tombs, and by the time the group got around to unleashing a proper full-length for Relapse, 2009's Winter Hours, Seita and Ennis had been replaced with Carson James and Andrew Hernandez (Asra), respectively. The band's sophomore outing, 2011's Paths of Totality, was produced by John Congleton (Baroness, Explosions in the Sky), and featured prominently on many critics' year-end metal lists. 2014's Erik Rutan-produced Savage Gold marked the debuts of guitarist Garett Bussanick and bassist Ben Brand, and 2017's savage The Grand Annihilation proved to be the group's most experimental set of material to date. ~ James Christopher Monger, Rovi
WVRM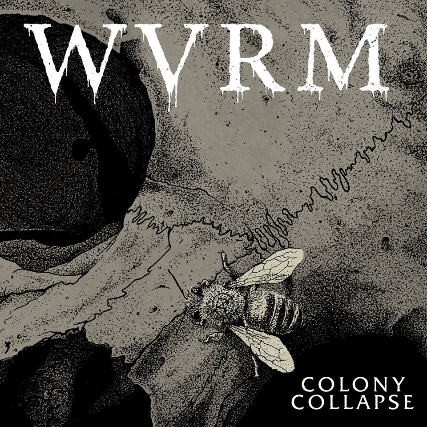 WVRM is a grind band from South Carolina.