Brick by Brick presents
Suicide Silence
with Bad Omens, OH, Sleeper, Thousand Below, Bloodline
Feb, 14 @
7:00 pm
( Doors:

6:30 pm

)
Brick By Brick
Ages 21 and Up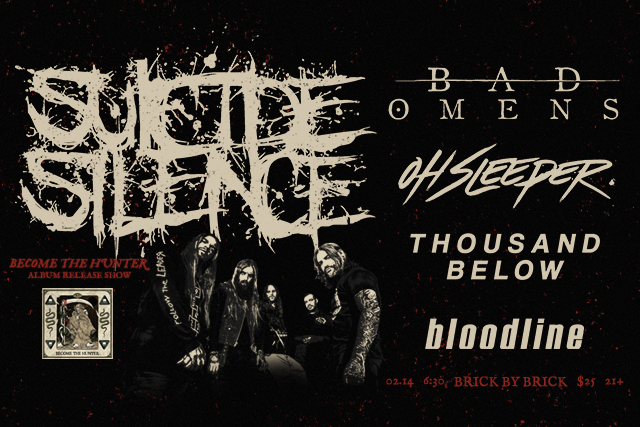 Additional Info
*Online sales end at 6PM day of show unless otherwise noted. For events sold out in advance, no additional tickets will be available at the door.
Artists
Suicide Silence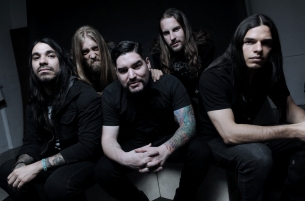 John Wick, The Bride, Django, Lady Vengeance, Eric Draven; classic antiheroes and vigilantes of cinema who rose from unspeakable tragedies to inflict a bloody retribution on those who'd taken from them, who'd brutalized them, who'd left them for dead. Literature is filled with them too, from "The Count of Monte Cristo" to "The Scarlet Letter". In extreme music circles, there is no band who better represents this theme than SUICIDE SILENCE. They are the sound of resilience and perseverance. The band that arises from the flames of despair, loss, personal demons, and defeat.

It's the reason their most popular songs have titles like You Can't Stop Me, You Only Live Once, and Inherit the Crown. This is music for those who turn the tables and flip the script, rewriting the narrative for themselves, reclaiming whatever was stolen by doubters, abusers, loudmouths. It's why their sixth full-length album, which finds SUICIDE SILENCE out for blood like never before, is called Become the Hunter. It's extreme music for the extreme resolve to never be anyone's victim.

A cinematic flair worthy of some of those revenge driven antiheroes enshrouds the ten songs that comprise Become the Hunter, making for an atmosphere that's altogether dense and angry. Upon the first taste of the album, Metal Injection declared, "SUICIDE SILENCE stays heavy as hell."

The storytelling in the music videos for "Meltdown" and "Love Me to Death" is no less ambitious. As Consequence of Sound gleefully reported, "SUICIDE SILENCE's crushing extreme-metal breakdowns are in full effect on both songs," with special praise for Eddie Hermida's "death growls and shrieks that hit an impressive range." UK tastemaker Kerrang!

called the band "pioneers" and "groundbreakers" who've made "some of extreme music's most loved albums in recent years."

The Southern California heavy metal institution defines and defies subgenre classification, ushering in and popularizing a brand-new strain of "deathcore" championed by fresh generations of metalheads, while maintaining reverence for traditional death metal, and punk rock rule breaking.

The tight-knit band's mash-up of death metal, grind and time-signature bending dissonance with structured, focused and undeniable grooves unquestionably shaped and led the emerging "deathcore" subgenre from the arrival of their 2007 debut, The Cleansing. SUICIDE SILENCE named "Best New Talent" at the Revolver Golden Gods Awards and had already dominated the Rockstar Mayhem touring festival by the time 2009's No Time to Bleed broke into the Billboard Top 40. "Wake Up" and "Lifted" became underground classics, as SUICIDE SILENCE transcended the subgenre they helped define and became peers with the bands they'd grown up worshipping.

As Revolver noted in a ten-year retrospective, "SUICIDE SILENCE's second LP defined the shape of deathcore to come. But what really made No Time to Bleed so special is the way it incorporates elements from metal subgenres beyond death metal and hardcore. There are seasick guitar noises reminiscent of nu-metal pioneers KORN, minor-key licks that smell of thrash icons SLAYER, and samples and sound effects manufactured on the assembly line of industrialists FEAR FACTORY."

Produced by Steve Evetts (THE DILLINGER ESCAPE PLAN, EVERY TIME I DIE, SEPULTURA) and mixed by Zeuss (ROB ZOMBIE, HATEBREED, DEMON HUNTER), The Black Crown was the full realization of everything SUICIDE SILENCE stood for and vehemently stood against. Q Magazine called it "a dark, violent and relentless listen." Kerrang! wrote that "true greatness is within their reach."

After beloved vocalist Mitch Lucker was killed in a motorcycle accident in late 2012, Mark Heylmun, Dan Kenny, Alex Lopez, and Chris Garza were joined by a slew of well-known guests (including future frontman Eddie Hermida) at an emotional tribute show. An understanding and supportive audience responded enthusiastically to the October 2013 announcement that the band would officially continue. As SUICIDE SILENCE found new life and empowerment with You Can't Stop Me so did their enduringly army of supporters, who shared in that empowerment.

Like the historical creative and commercial reemergence of AC/DC or ALICE IN CHAINS, SUICIDE SILENCE came roaring back from the kind of tragedy that often ends careers. You Can't Stop Me served as a simultaneous introduction to the band's new singer and a celebration of his late predecessor. Sirius XM's Liquid Metal played the Top 20 album more than any other in 2014.

The band spent October 2015 on the road with KORN and by the following spring, they were in the studio with the producer responsible for KORN's first two albums. Ross Robinson, whose other credits include landmark released by SEPULTURA, AT THE DRIVE-IN, and

SLIPKNOT, helped the band craft their fifth LP. SUICIDE SILENCE (2017) was mixed by Joe Baressi (TOOL, SLIPKNOT, KYUSS).

TourBeat put SUICIDE SILENCE next to rock music icons RUSH, NAPALM DEATH, and BEHEMOTH as "The Four Best Metal Bands That Have Been Touring for More Than Ten Years," saluting the band's "amazingly consistent" live show stretching back to 2002, as seen in recent years at Knotfest Meets Ozzfest, Rockstar Mayhem Fest, Warped Tour, and alongside MEGADETH, MUDVAYNE and more. It's a visceral, mind-warping experience that demolishes the separation of band and audience.

Become The Hunter reunites SUICIDE SILENCE with Evetts, who produced The Black Crown (2011) and You Can't Stop Me (2014). It was mixed by Josh Wilbur (LAMB OF GOD, GOJIRA, MEGADETH). Mastering duties were handled by Ted Jensen (PANTERA, DEFTONES, BRING ME THE HORIZON).

Less than two weeks after their release, the two new videos from album six had already amassed close to half a million views on YouTube. The diehard SUICIDE SILENCE faithful who helped put "You Only Live Once" close to 100 million views have not wavered, maintaining fierce devotion.

As evidenced defiantly and definitively on Become the Hunter, the best art summons its strength from authentic life experiences. Many bands pay lip service to the idea of overcoming the odd, but few live it as triumphantly as SUICIDE SILENCE.
Bad Omens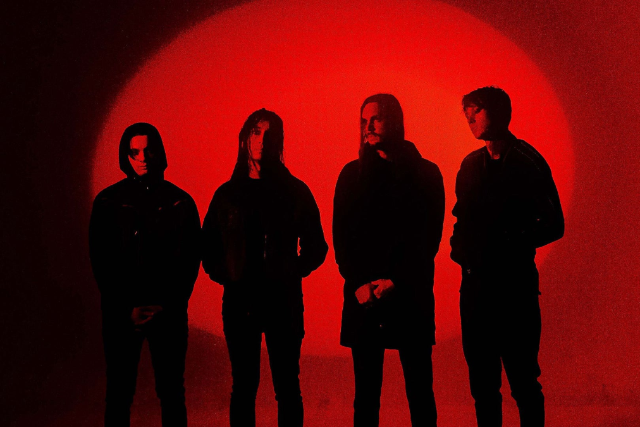 Meticulousness ensures singularity. Bad Omens carefully direct each nuance of their music, approaching the process with an auteur mindset. The California quartet—Noah Sebastian [lead vocals], Joakim "Jolly" Karlsson [lead guitar, vocals], Nicholas Ruffilo [bass], and Nick Folio [drums]—explore the enigmatic idiosyncrasies of their signature sound on 2019's Finding God Before God Finds Me [Sumerian Records], imbuing cinematic electronics and gospel stature into metallic melodies.

Produced by Noah and Jolly, the ten-track trip unfurls like the sonic equivalent of a gripping existential drama.

"What makes us a rock band is the fact we play instruments, but we've always been pretty experimental in terms of post-production," explains Noah. "We dove after a specific sound without boundaries. What separates us is the attention to detail in every song."

Bad Omens diligently worked to hone this approach since their 2016 self-titled debut. As the entire tracklisting tallied nearly 30 million streams, the breakthrough single "The Worst In Me" leapt past the 8 million mark on Spotify. Meanwhile, "Glass Houses" clocked 4.7 million Spotify streams, "Exit Wounds" racked up 2.6 million Spotify streams, and "Reprise (The Sound of the End)," "The Fountain," "F E R A L," and "Enough, Enough Now" each exceeded 1 million-plus on the platform. Along the way, they received looks from Alternative Press, New Noise, and Revolver and toured alongside everyone from Parkway Drive to Bullet For My Valentine and Asking Alexandria. Following Warped Tour 2017, the group commenced writing for what would become Finding God Before God Finds Me.

In addition to expanding the sonic structure under the influence of the Hillsong UNITED and other gospel production, Noah endeavored to brighten up the thematic palette as well.
"The last record was so melancholic, sad, dark, and nihilistic at points," he admits. "Before we started really writing the new record, I went through some things that opened up my mind and made me realize who I wanted to be as a musician, what message I wanted to send, and the feeling I needed to inspire. This is predominantly hopeful. There's a sense of underdogs overcoming adversity. We should be a safe place for people. There's also a musical feeling of uplifting catharsis. It's not entirely happy or sad, but more so regal."

This drove 2018 singles "Careful What You Wish For" and "The Hell I Overcame." Fans immediately responded as the former generated 1.5 million Spotify streams and the latter quickly neared 2 million. With Jolly a world away in Sweden, they finished the record remotely, maximizing the time in between tours to cap off a panoramic vision.

The 2019 single "Burning Out" couples strains of piano and choir with trudging distortion and a sweeping and soaring chant of empowerment, "I was lost, but now I'm found under the lights and in the sound."

"It's about the impact music has made on me and how it saved me in a sense," he continues. "It's about my relationship with myself and music and how I overcame my emotions and took advantage of this ability to reach a better place. I wanted the lyrics to give you a sense of hope."

Evocative of the experimentation, the album slips from choral elegance into a Spaghetti Western-style swing on opener "Kingdom of Cards." The conclusion "If I'm There" climaxes on a beautiful reprise, "Well if I'm there to catch you when you fall, you'll have a friend down in hell after all."

"In some ways, it's a love song," he adds. "It's also a song of forgiveness and acceptance, which is why it's the end. I'm drawing a line in the sand and forgiving. This is something I never would've done in our stuff before."

By imparting a piece of themselves on every aspect of the composition and production, Bad Omens deliver a statement that stands out. "We just want you to feel something," he leaves off. "Nothing in the world is stronger than emotion. It makes us human, gives us soul, and separates us. We tried to make this album like a movie where it captivates you immediately, takes you on a journey, and gives you a positive payoff."
OH, Sleeper
Thousand Below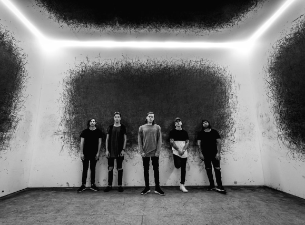 www.facebook.com/thousandbelow
Bloodline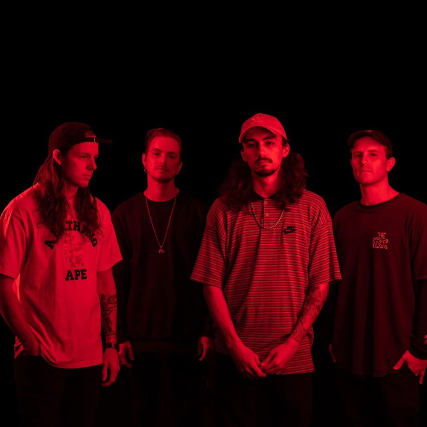 Bloodline is a four piece Alternative Metalcore outfit from Dallas, TX. Formed in 2015, the band is Joseph Todd (lead vocals), Titus Kirby (guitars/vocals), Jake Jones (bass), and Matt Dierkes (drums/vocals). Their second full length album, "Better View", produced by Dierkes and Kirby, released on Stay Sick Recordings, March 29, 2019.