Brick by Brick presents
96 Bitter Beings
with The Native Howl, Locust Grove, Deathboys
Jan, 10 @
8:00 pm
( Doors:

7:30 pm

)
Brick By Brick
Ages 21 and Up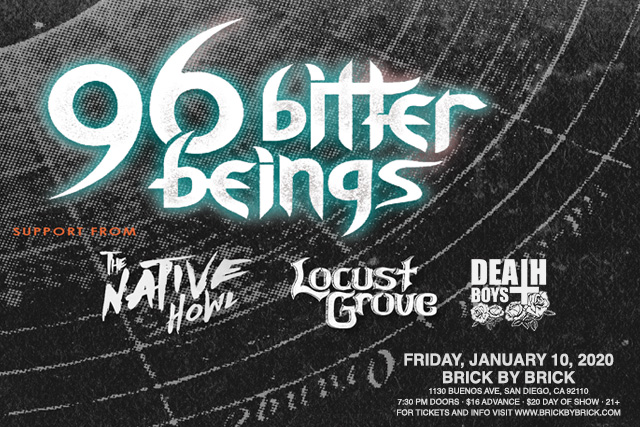 Additional Info
*Online sales end at 6PM day of show unless otherwise noted. For events sold out in advance, no additional tickets will be available at the door.
Artists
96 Bitter Beings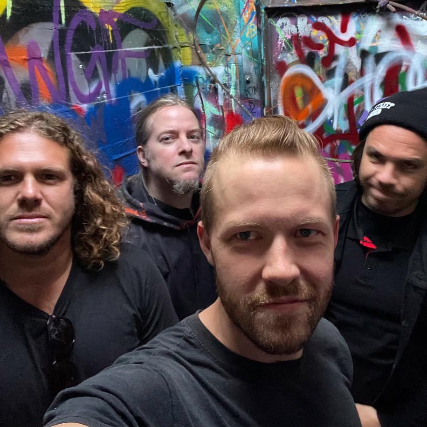 96 Bitter Beings officially announced their formation on the day that Deron Miller's (guitar/vocals) grandmother turned 96 on September 1st 2016. The name also refers to what is without a doubt the most popular song Miller has written so far, "96 Quite Bitter Beings", released by his former band CKY on their debut album Volume One in 1999. After endless touring worldwide from 1999-2012 and 1,000,000 records sold the band quietly disbanded and fizzled out (the usual "irreconcilable differences"). After having met rhythm section brothers Tim (drums), Shaun Luera (bass), and Kenneth Hunter (guitar), things started to take serious shape after this new Los Angeles based line-up recorded a 20th anniversary 3rd album "Galactic Prey" for Miller's cult classic side project metal band Foreign Objects. After the success of this album, the group sought to set the goal of recording 2 new albums in the genre defying RnR style Miller exhibited on the 4 classic albums he wrote with his former group. The first album, recorded for die hard fans and self-released in October of 2018 was issued in a limited edition digi-pak cd as well as a vinyl issue of 500 currently in production and in the pre-order stage for a late 2019 release. The 2nd album, "Synergy Restored" is completed and in the can and due for release in early 2020. This album, produced by Deron and Kenneth at Manifest Productions is said to be, by the handful of people that have heard it, by far the best work of Miller's career, with a dark, Bloodrock/pop sound featuring a crystal clear mix and organic performances rarely heard on albums recorded on computers. The band retains the storytelling type lyrics on new classics such as "Wish Me Dead", "Vaudeville's Revenge", "90 Car Pile-up" and "Your Bedtime Story", as well as the well crafted arrangements and intricately hooking guitar riffs that will stun new and old fans alike. The band has just hooked up with worldwide booking agent Satellite Touring and endorses the world's finest guitars Esoterik. 96BB is also in the middle of securing a deal with the legendary rock metal label Nuclear Blast for the release of "Synergy Restored" as well as re-releases of other catalog albums in digital and physical formats.
The Native Howl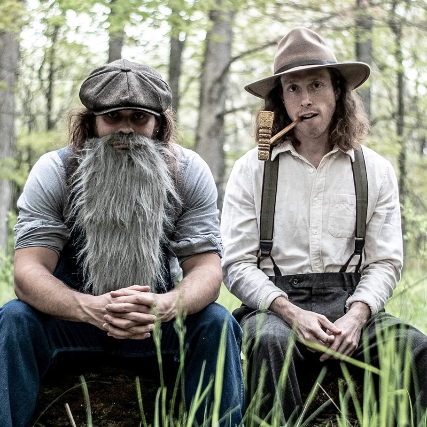 The Native Howl writes, records, and performs a wide variety of genres and styles of music, the most notable of which being their newly-coined "Thrash Grass," the combination of the intensity and aggression of thrash metal with the melodicism and precision of bluegrass.

Taking a stand against the seemingly unscrupulous status-quo of the music industry, The Howl created their own label Clean as Dirt Records and recording facility C.A.D. Studios through which they release their music and media independently, thereby steering clear of non-creative adulterants.

Their acclaimed 2016 E.P. "Thrash Grass" was followed by a double-length album "Out of the Garden and Into the Darkness," peaking at #3 on the U.S. Bluegrass Billboard Charts.
Locust Grove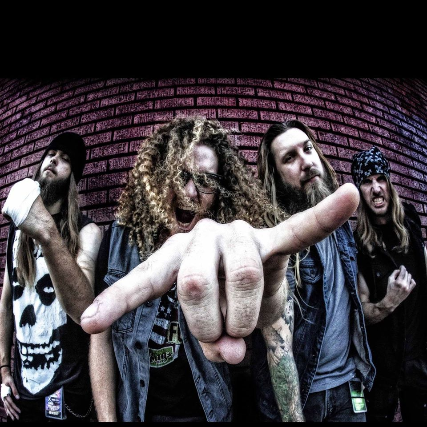 Four piece high energy hard rock band based out of Oklahoma City, OK. comprised of former member from Anti-Mortem(Zain Smith) shredding guitar and vocals for Locust Grove also tearing up the guitar is Vincent Charles Lindstrom of Siva Addiction and Heatfix. Quentin Williams of Warneck slaps the bass(literally) and Joey Mandigo from Blakk Mantra, Sleaze Dizeaze and Lord Dying is the man behind it all on the drums. Joining forces to bring heavy guitar riffs soaked with infectious grooves back to rock music,with raw emotion and power you are forced to bang your head.
Deathboys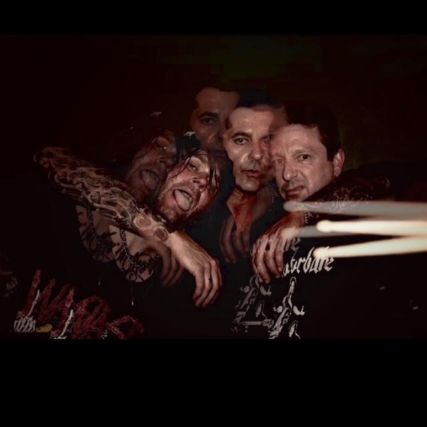 San Diego gutter rock n roll.

Tony // Vocals, Guitar
RattleJake // Bass, Vocals
Dizzy // Drums and other things