Brick by Brick presents
Vale of Pnath
with Gorod, Wolf King, Corpsemaker, Defy The Tyrants
Feb, 20 @
8:00 pm
( Doors:

7:30 pm

)
Brick By Brick
Ages 21 and Up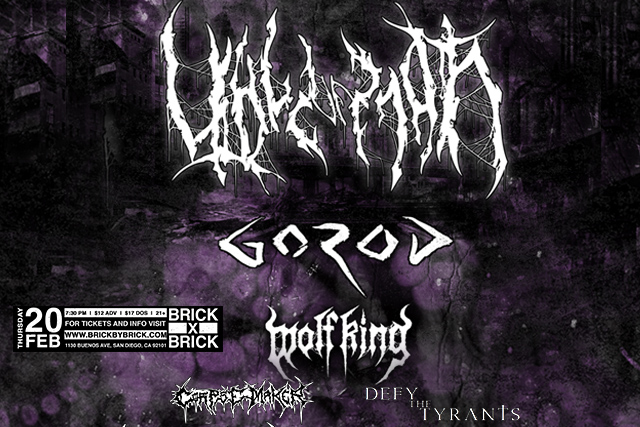 Additional Info
*Online sales end at 6PM day of show unless otherwise noted. For events sold out in advance, no additional tickets will be available at the door.
Artists
Vale of Pnath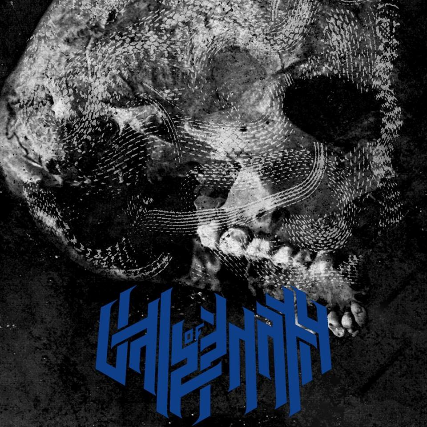 The Vale of Pnath is a vast pit in the underworld, filled with a mountain-sized heap of bones and is the spot into which all the ghouls of the waking world cast the refuse of their feastings. Enormous worm-like creatures burrow through the Vale and often carry with them helpless victims, where they are left to die.

Vale Of Pnath is a five-piece extreme metal band from Denver, CO originally formed in 2006 by guitarist Vance Valenzuela, bassist Alan Paredes, drummer Jeremy Portz and vocalist David Lercher. Guitar virtuoso Mikey Reeves-Juarez joined the lineup and two years later the band recorded a blistering 4-track EP with Dave Otero (Cattle Decapitation, Cephalic Carnage, Allegaeon) where upon it's self-release was met with overwhelmingly positive reviews within the technical and melodic death metal community.

In 2009, Tribunal Records reached out to the band and re-released the self-titled EP.

In 2010, Ken Sarafin (Sarafin Concepts) takes over on vocal duties and the band signs with Willowtip Records. "The Prodigal Empire" was released worldwide in 2011 with massive outpouring of support from the tech death community. The band began to develop a following as they regularly gigged locally and regionally before Ken had to step down, unable to commit to touring as he was focused on his career in art & graphic design.

Enter longtime friend of the band Stevie Boiser (Calculating Genocide, Dissonance In Design) and new full-time drummer Eric W. Brown (Inferi, Destroyx3, Swashbuckle). The band embarks on several tours throughout the US supporting acts such as Vital Remains, Gorod, Abiotic and Enfold Darkness.

Mikey left the band in 2014 and was replaced briefly by the prodigious Harrison Patuto (Dissonance In Design), before Harrison needed to leave the band world to concentrate on other efforts. Stevie also said good-bye to shift his focus elsewhere, leaving a void in the Pnath and open positions for both guitar and vocals.

Eloy Montes (Flub) fills the spot on guitar, and fresh blood Reece Deeter (Apotheon) shows up in the nick of time to offer his vocal talents and willingness to adapt to new surroundings.

In December 2015, Vale Of Pnath heads back over to Flatline Audio to record the second-full length effort with Dave Otero. "Vale Of Pnath II" is the band's most melodic and technical effort yet, and thanks to a successful Kickstarter campaign, will be released on June 2016 via Willowtip Records.
Gorod
The undisputed kings of melodic tech death !*

Founded at the dawn of the 21st Century, GOROD is among the most appreciated progressive death metal bands on the current international metal scene.
Native from Bordeaux, France, GOROD released 5 albums and 2 EP who were, for each one, warmly welcomed by fans and music medias around the world, that gave the band this current fame.


GOROD is a real live act, showing impressive instruments skills and ultimate precision on stage.

The band toured Europe several times with top-notch international acts (Morbid Angel, Obscura, The Faceless, Cattle Decapitation, Immolation, Job For a Cowboy, Havoc, etc), played 2 times at Hellfest, crushed the stage at Summer Breeze OA and Brutal Assault OA, toured the USA where they played 2 times at the mighty Maryland Deathfest, and travelled there for a month as headliner of the Bloodletting North America Tour in 2013 and also toured Canada for four weeks in 2016.
It's appearance to the biggest metal festival in South East Asia, Jakarta Hammersonnic International Festival and a Japanese Tour definitely contributed to set the band as an impressive and respected live act.

"A Perfect Absolution" (2012) is regarded as the band's masterpiece to this day showing GOROD at the top of their game. The album was voted as best French metal album of the year in France in N°1 french webzine "VS Webzine".
"A Maze of Recycled Creeds", October 16th 2015, received impressive reviews. It's not only a continuation of what the previous album offered but a further improvement in terms of production, song writing and arrangements.

In 2017, the band was offered to tour with US Thrash Metal bands… so they decided to self release an EP in the 90's thrash genre they pretty enjoy.
This new opus, "Kiss the Freaks" delighted thrash metal fans as well as music medias for an unanimous opinion : whatever GOROD undertakes, it makes it brilliantly!!

"Thanks to their large experience, GOROD have never sounded as strong as they do now !!"

* Metalsucks 01/2015
Wolf King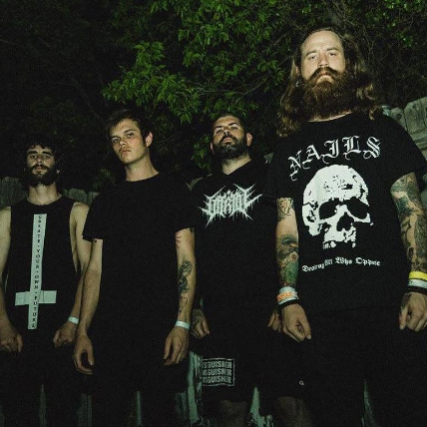 Corpsemaker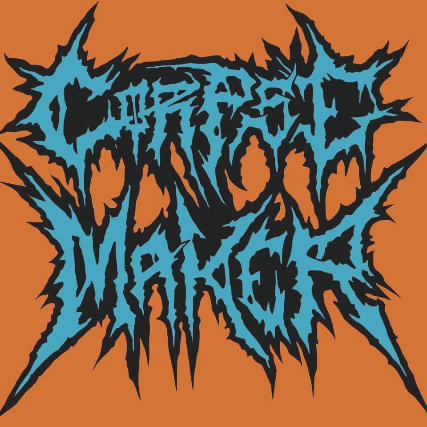 Corpsemaker was founded in San Diego, California in summer of 2017. Sharing a vision for writing and performing a brand of heavy, melodic, energy filled death metal. Blending influences from all stretches of the extreme and complex web of metal music to create a sound that is both recognizable yet subtly unique.
Defy The Tyrants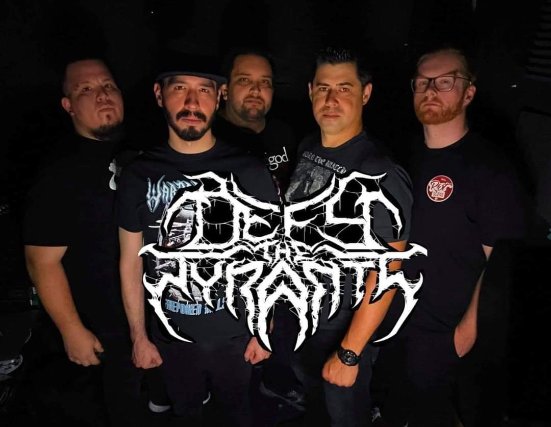 "Wrest The Crown", the first release from San Diego's Defy The Tyrants coming soon.

Featuring former members of Draind, Thirty 30, and Within The Swarm