Slabratory presents
Good Riddance
with Youth Brigade, The Last Gang, PSO
Jan, 9 @
7:30 pm
( Doors:

7:00 pm

)
Brick By Brick
Ages 21 and Up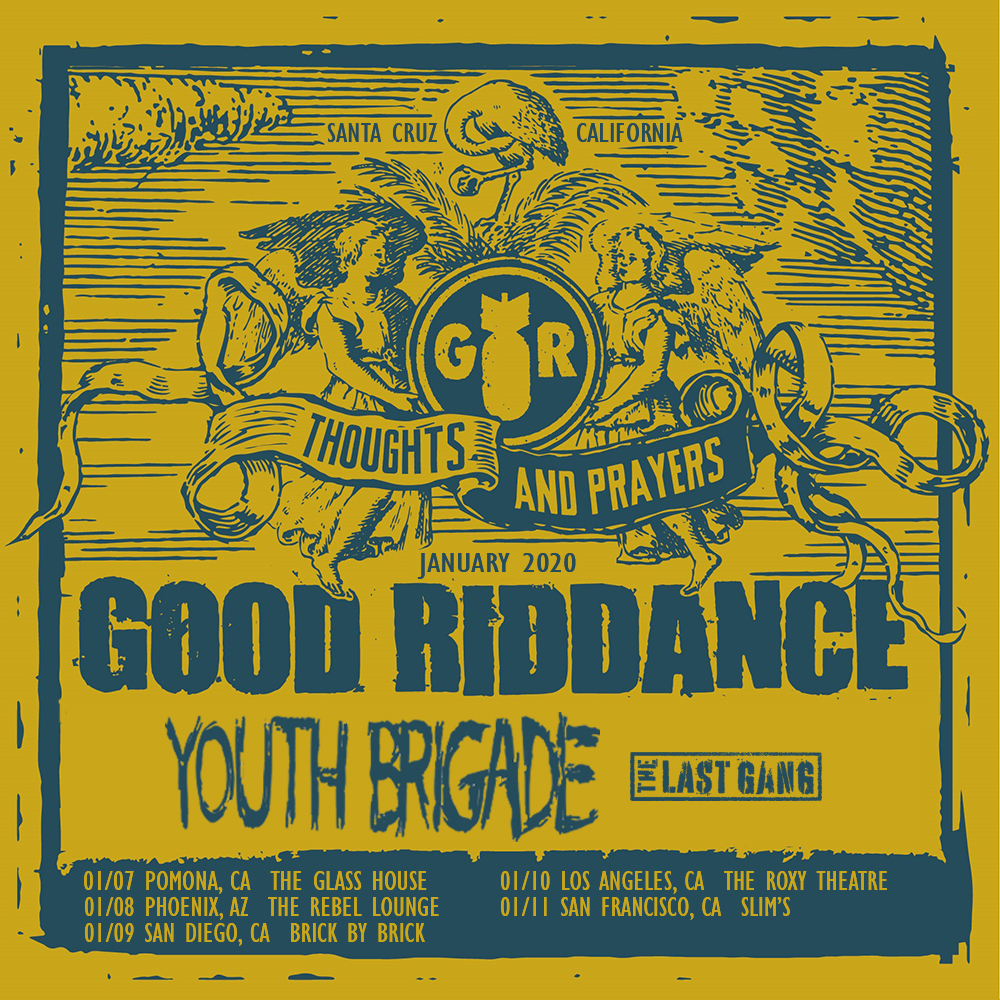 Additional Info
*Online sales end at 6PM day of show unless otherwise noted. For events sold out in advance, no additional tickets will be available at the door.
Artists
Good Riddance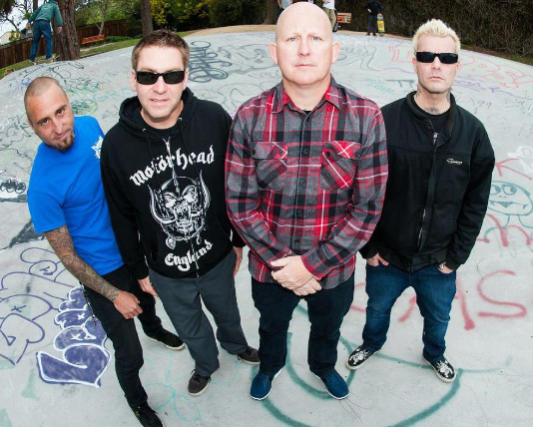 Good Riddance is a hardcore punk band from Santa Cruz, California which was formed in the early 1990s. The band grew out of California's vibrant surfing and skateboarding culture and was influenced by such bands as Black Flag, The Adolescents, TSOL and Bad Religion as well as East Coast bands like Sick Of It All and the Cro Mags.

The group's early years were spent going through line up changes, playing local and regional shows and recording demos as they developed their sound. Early tours and a 7" record release on Little Deputy Records in 1993 ("Gidget") brought the band widespread interest and overwhelmingly positive reviews.

In 1994 the band caught the interest of Fat Wreck Chords who released the "Decoy" 7″ later that year while the band hit the studio with producer Ryan Greene to record their first full length album "For God And Country" which was released in early 1995.

Over the next decade Good Riddance went on to release seven full length albums and an EP for Fat while crisscrossing the globe dozens of times on tour. The band developed a dedicated and passionate fan base through their constant touring and politically charged music. Good Riddance began donating a portion of their record sales to various organizations and doing whatever they could to raise awareness about the causes they felt strongly about.

In May 2007 Good Riddance played their final show, fittingly in their hometown of Santa Cruz. The members then went their separate ways to raise families and pursue careers. Though there have been numerous offers to reform and play in the five years since, the band has turned them all down.
Youth Brigade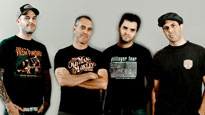 The Last Gang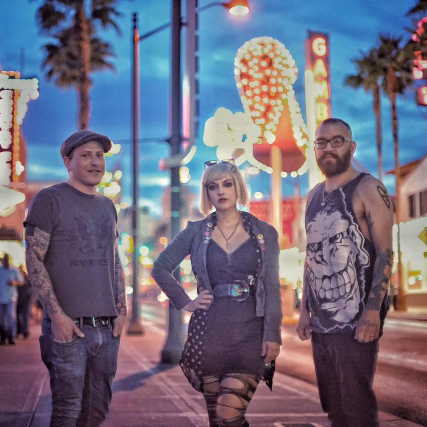 This December, Orange County's The Last Gang will make their Fat Wreck Chords debut with the two-song 7-inch Sing for your Supper. And while The Last Gang may seem like a new band, their history is rife with chance encounters that led to big breaks. The band originally formed in 2007, with vocalist-guitarist Brenna Red leading the band and playing the king of '77 punk that allowed them to tour with the Anti-Nowhere League and Dwayne Peters Gunfight. But in 2012, shortly after drummer Robby Wantland joined, The Last Gang put their guns down and called it a day. Thankfully, that didn't last long.
Reformed by vocalist-guitarist Brenna Red and drummer Robby Wantland the pair developed the sound that would become The Last Gang, a mix of tough-as-nails punk and bouncing melodies. As they rotated through bass players, the band quickly found themselves being asked to contribute
to the Rancid tribute compilation Hooligan's United. But due to some email based mishaps, they'd be under a time crunch. "We found out we were gonna be on it the day before the deadline," says Red. "Long story short, we learned and recorded the song in one day."
But that one song—and the music video that accompanied it—would be the jumpstart the band needed. Before long, they'd find a permanent bassist in Sean Viele, and The Last Gang would hit the road, a handful of releases, and become a more dominant force than ever before. As the band prepped new material, another chance encounter would give the band an even shot in the
arm, as Wantland ran into producer Cameron Webb (NOFX, Motörhead, Alkaline Trio). Soon, Wantland would find himself in Webb's studio, playing the esteemed producer some of The Last Gang's songs. "I played him the demos and he was like, 'Holy shit. Do you guys have a manager or anything?' It wasn't really my intent to con him into liking my band or anything, but it was a dream," says Wantland.
With their lineup solidified, and a producer on board, The Last Gang went into the studio with Webb to record some songs. And as The Last Gang was just about to head out on a tour of England, minutes before they were up in the air, they got a call from Erin Burkett. "We're getting ready to go to England, we're at LAX, and Erin calls us and says she wants to sign us," says Wantland. It's the kind of story that you'd expect in a Hollywood movie instead of a punk band's origin story, but it's the product of years of hard work and dedication—and
the fact that The Last Gang is a band worth getting excited about.
When Sing for your Supper hits on December 8, that infectious energy will spread all the more once people drop the needle on the 7-inch. More than just a teaser for the 2018 full-length, the two songs serve as a perfect introduction to The Last Gang. The title track—which will also be on their new album—is the kind of palm-muted ripper that made Rancid famous, with a bouncing bass line, a huge hook, and airtight songwriting that'll get stuck in your head for years to come. And the B-side, which is exclusive to this release, is no less throttling. From the jump, the song whips up a frenzy, shifting directions on a dime but never losing sight of The Last Gang's pop-indebted ethos. After years of grinding it out, Sing for your Supper is the distillation of The Last Gang's dedication, passion, and hunger. And for those looking for your new favorite punk band, look no further.
PSO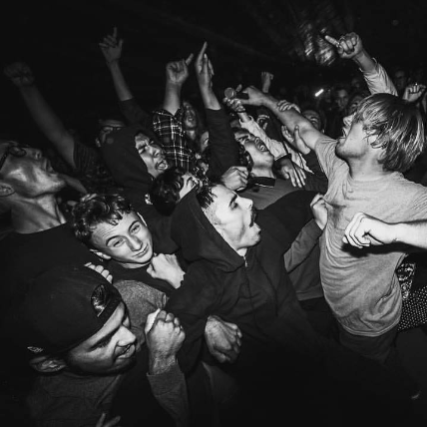 Although PSO has been active for the past two years, the members have been busy with music and skateboarding for a good 12 plus years prior. In Lemon Grove, Ca, late 2003, Zak(13), Nate(11), and Simon(9) started a band in their garage, becoming "Jakked Rabbits". Over the next six years, the three brothers learned to play there intsruments and eventually added the youngest brother Noah to the band, who had learned to play guitar. They had the opportunity to share the stage with bands like Angry Samoans, DI, Raw Power, Bad Religion, Agent Orange, Narcoleptic Youth, US Bombs, The Casualties, TSOL, Dr. Know. And even getting the opportunity to tour along side bands such as Anti No Where League, Duane Peters Gunfight, Cobra Skulls, and Stigma.
During this time, the Jakked Rabbits continued to have fun on there skateboards. Doing multiple skateboard tours up and down the west coast and multiple times across the country. Alot of the footage was used for different episodes on Fuel TV, and even getting used during a Caption and Casey Show. At an early age they were in a skate video called "The Next Invasion" which was sold world wide at all Best Buys, which can be seen here...
https://www.youtube.com/watch?v=bWrOOH69blw
In early 2012, all four Prescott brothers started PSO and haven't slowed down. Since then they have put out two records on vinyl, which is also available for digital download at
PSOLGP.bandcamp.com.
The four brothers are at the height of there game and are continuing to have more and more opportunities to show that they are the real deal. They skate, they slam and they jam. Hop on the PSO freight train or get run over in the process.