Brick by Brick presents
Dark Funeral
with Incantation, Hate, Vale of Pnath, Nightmarer
May, 17 @
7:30 pm
( Doors:

7:00 pm

)
Brick By Brick
Ages 21 and Up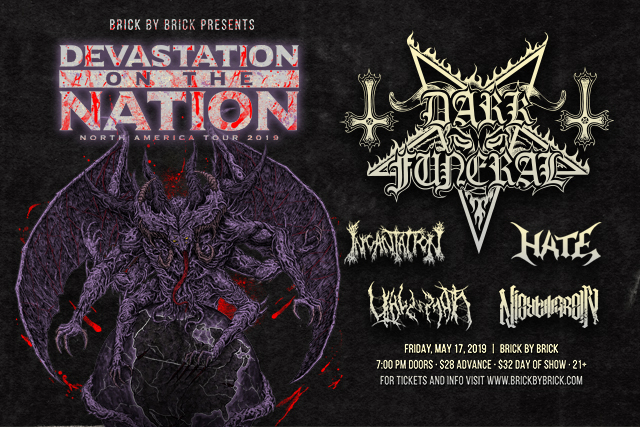 Additional Info
*Online sales end at 6PM day of show unless otherwise noted. For events sold out in advance, no additional tickets will be available at the door.
Artists
Dark Funeral
Sweden's Dark Funeral are without doubt one of the most notorius and highly regarded of the Black Metal genre. They epitomize the dark essence that is and always will be at the true heart of the European scene.
Formed back in 1993 by Lord Ahriman and Blackmoon (RIP). Releasing the classic self-titled & self financed MCD just a year later, it was "The Secrets Of The Black Arts" which quickly turned DARK FUNERAL into one of the leading acts of the second wave of black metal next to other legends such as Emperor & Dark Throne. In the ensuing years a string of truly merciless studio albums, worldwide tours, festival shows, and impressive live performances kept them not only in high demand on the live circuit but also resulted in a strong bond with a maniacal global fan-base, who supported them through thick and thin. Now, a new aeon has begun with the release of DARK FUNERAL's sixth studio album, "Where Shadows Forever Reign", produced by Daniel Bergstrand (In Flames, Dimmu Borgir, Behemoth), which not only visually refers back to the aforementioned first offering due to its stunning artwork by Necrolord (Dissection, Emperor), but also marks a debut of sorts: The first DARK FUNERAL album with new vocalist Heljarmadr. His vitriolic snarl finds a perfect match in Lord Ahriman's trademark riffing, and shines on the intense opening track, which would not have felt out of place on 1998's "Vobiscum Satanas", as well as on the slower epic, "As I Ascend", the diverse "To Carve Another Wound", or the grim finale "Where Shadows Forever Reign". The album was awarded twice, by Swedish P3 Guld & German Metal Hammer Award.
In October 2018 Lord Ahriman receieved SKAP's Metal Award with the motivation: "He alone sits on the throne of the kingdom of dark metal. He creates raging music with moods and sounds that send shivers down the spine and are loved by fans all over the world".
– What distinguishes SKAP's awards from many others in the industry is that they not only are based on commercial success, but highlight quality, and are a recognition and token of appreciation from other colleagues. This makes it a matter of much more than the prize money. When I see the awardees, not only do I feel happy, but also proud of what Swedish music creators achieve year after year, says SKAP Executive Chairman, Alfons Karabuda. Those who receive SKAP's awards are music creators of different genres, anything from electro pop via musical to jazz. The awards will be presented at three ceremonies in December 2018: Malmö, Gothenburg and Stockholm.
Incantation
Hate
Vale of Pnath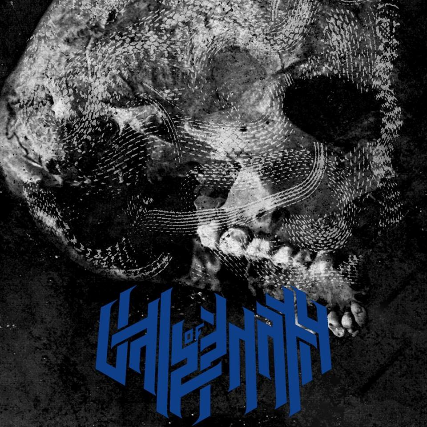 The Vale of Pnath is a vast pit in the underworld, filled with a mountain-sized heap of bones and is the spot into which all the ghouls of the waking world cast the refuse of their feastings. Enormous worm-like creatures burrow through the Vale and often carry with them helpless victims, where they are left to die.

Vale Of Pnath is a five-piece extreme metal band from Denver, CO originally formed in 2006 by guitarist Vance Valenzuela, bassist Alan Paredes, drummer Jeremy Portz and vocalist David Lercher. Guitar virtuoso Mikey Reeves-Juarez joined the lineup and two years later the band recorded a blistering 4-track EP with Dave Otero (Cattle Decapitation, Cephalic Carnage, Allegaeon) where upon it's self-release was met with overwhelmingly positive reviews within the technical and melodic death metal community.

In 2009, Tribunal Records reached out to the band and re-released the self-titled EP.

In 2010, Ken Sarafin (Sarafin Concepts) takes over on vocal duties and the band signs with Willowtip Records. "The Prodigal Empire" was released worldwide in 2011 with massive outpouring of support from the tech death community. The band began to develop a following as they regularly gigged locally and regionally before Ken had to step down, unable to commit to touring as he was focused on his career in art & graphic design.

Enter longtime friend of the band Stevie Boiser (Calculating Genocide, Dissonance In Design) and new full-time drummer Eric W. Brown (Inferi, Destroyx3, Swashbuckle). The band embarks on several tours throughout the US supporting acts such as Vital Remains, Gorod, Abiotic and Enfold Darkness.

Mikey left the band in 2014 and was replaced briefly by the prodigious Harrison Patuto (Dissonance In Design), before Harrison needed to leave the band world to concentrate on other efforts. Stevie also said good-bye to shift his focus elsewhere, leaving a void in the Pnath and open positions for both guitar and vocals.

Eloy Montes (Flub) fills the spot on guitar, and fresh blood Reece Deeter (Apotheon) shows up in the nick of time to offer his vocal talents and willingness to adapt to new surroundings.

In December 2015, Vale Of Pnath heads back over to Flatline Audio to record the second-full length effort with Dave Otero. "Vale Of Pnath II" is the band's most melodic and technical effort yet, and thanks to a successful Kickstarter campaign, will be released on June 2016 via Willowtip Records.
Nightmarer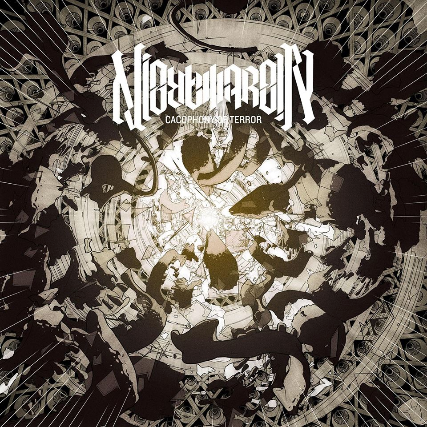 Chaos comes crashing in waves. Patterns emerge out of swirling energy. Darkness coalesces out of fragments into bizarre forms and strange angled shapes. What reads like a list of entries into H.P. Lovecraft's dictionary of horrors is the nightmarish musical vision offered by NIGHTMARER on their debut album, Cacophony of Terror.

Seemingly out of nowhere, NIGHTMARER hit the extreme metal underground with their first EP Chasm in early 2016. This furious whirlwind of low end dissonance, devastating heaviness and majestic walls of sound took the scene by storm and the first 10" vinyl pressing almost sold out while still on pre-order.

Conceived in 2014 by former members of bands such as GIGAN, THE OCEAN and WAR FROM A HARLOTS MOUTH, this international trio derives only the most extreme elements of their previous musical outlets and takes those in to another hellish dimension.

Carving their distinctly personal and unique path into the dark matter that DEATHSPELL OMEGA, DODECAHEDRON and ULSECT have ventured to explore, NIGHTMARER are now set to release one of the darkest and crushing albums of 201 8. Enter this Cacophony of Terror in search of extreme sonic pleasures at your own peril!